Granola is usually thought of as a breakfast food, but it can also be a tasty mid-day snack. Generally, granola is a combination of rolled oats, something sweet and something savoury, then baked to perfection and served with yogurt or on its own. Here are 3 easy granola recipes you can make at home! 
Savory Granola 
1 cup old-fashioned oats 
½ cup shelled pistachios
½ cup walnuts 
½ cup sunflower seeds not in shell 
1 tablespoon fennel seeds
1 teaspoon kosher salt 
½ teaspoon cayenne pepper 
¼ olive oil 
1 tablespoon honey 
Instructions: 
Preheat the oven to 350. 

Toss all the ingredients into a bowl and mix until everything is coated evenly. 

Spread on a baking sheet and place in the oven for 20 to 25 min until crispy and dry. 
Use this granola as a garnish on thick creamy soups, in salads or add on top of greek yogurt for a different flavour! 
Pumpkin Spice Granola 
Enjoy pumpkin spice another way this fall, or enjoy it all year round, we don't judge! Make your own granola with this pumpkin spice recipe from Sally bakes. Don't forget about our pumpkin spice mix and try using our DIY pumpkin spice mix for the seasoning! 


Banana Bread Granola 
Eat on its own as a snack or use it as a topping for your favourite banana bread! 
Ingredients: 
3 cups oats
Roughly Chopped Pecans
Roughly Chopped Walnuts
1 tablespoon Cinnamon
1 tablespoon Maple Syrup
1 Mashed Banana
2 tablespoon Liquid, or melted Coconut oil
Splash of Vanilla
Banana Chips
Instructions: 
Preheat the oven to 350. In a bowl mix together the oats, walnuts, pecans and the cinnamon.

Mix it all and make sure everything is coated evenly with cinnamon. Add the maple syrup, coconut oil, vanilla, and mashed banana

Stir it all together until everything is coated.  

Line a baking sheet with parchment paper, and put the mixture on the pan and level it out to one layer. 

Bake for 20 to 25 min

Once it is baked and cooled, sprinkle the banana chips and chocolate chips and store in an airtight container in the fridge.
Tried these easy granola recipes? Share your photo using #spuddelivers!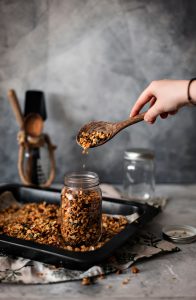 Don't want to make your own?