Vegan Brownies Recipe
By Sherry Strong
For this recipe you will need a high-powered blender; a food processor will work in a pinch, but the texture will not be as creamy.
Ingredients
1 cup hot water
1⁄2 tsp baking soda
6 dates, pitted
1⁄2 cup coconut palm sugar
1⁄2 cup coconut oil
1 tsp vanilla bean powder
11⁄2 cup ground almonds
3⁄4 cup cocoa powder
1⁄2 cup chopped walnuts
1⁄4 cup chopped dark chocolate or choc chips
Method
1) Add baking soda to hot water and pour over dates. Cool date mix/paste and blend with coconut palm sugar, coconut oil, vanilla bean powder.
2) Mix cocoa with ground almonds. Fold through cocoa and almonds mix with date paste. Fold in nuts and chocolate.
3) Pour into mini muffin top tins. Bake for 10 minutes or until just cooked through.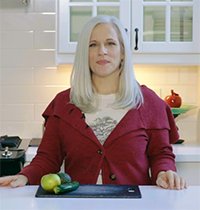 Sherry Strong is a food philosopher, chef and nutritionist who has travelled around the globe to do diet and lifestyle makeovers, and has worked with celebrities, elite athletes, Fortune 500 CEOs, billionaires, and Jamie Oliver and his Fifteen Foundation.