Thank you to those who helped us at Spud and Blush Lane address period poverty in March 2021. We are always amazed at how our community shows up in big ways to support those in need.

What is period poverty?
Period poverty is when people are unable to access or afford essential period products. This can exclude women, young girls, non-binary, and trans Canadians from basic activities, from sports to socializing, or attending work or school.
There are a third of Canadians under the age of 25 who menstruate and struggle to purchase enough hygiene products every month. This lack of access is something we hope to change by partnering with local organizations to provide those in need with tampons, pads, and cups.
How to reduce period poverty
In March 2021, we launched our Period Poverty campaign for the third year in a row to align with Women's Month. We teamed up with No Woman Without, The Period Project, and BC Housing's This is Me… Period project to help our community and address period poverty. 
During the month of March, we encouraged our customers to make a difference in three ways:
Buy any Organyc product and 25% of the proceeds will be donated to our partner organizations
Buy DivaCup® and one will be donated on your behalf, along with educational resources about menstruation
Donate unopened menstrual hygiene products to your Spud bin from any brand, and we will donate them on your behalf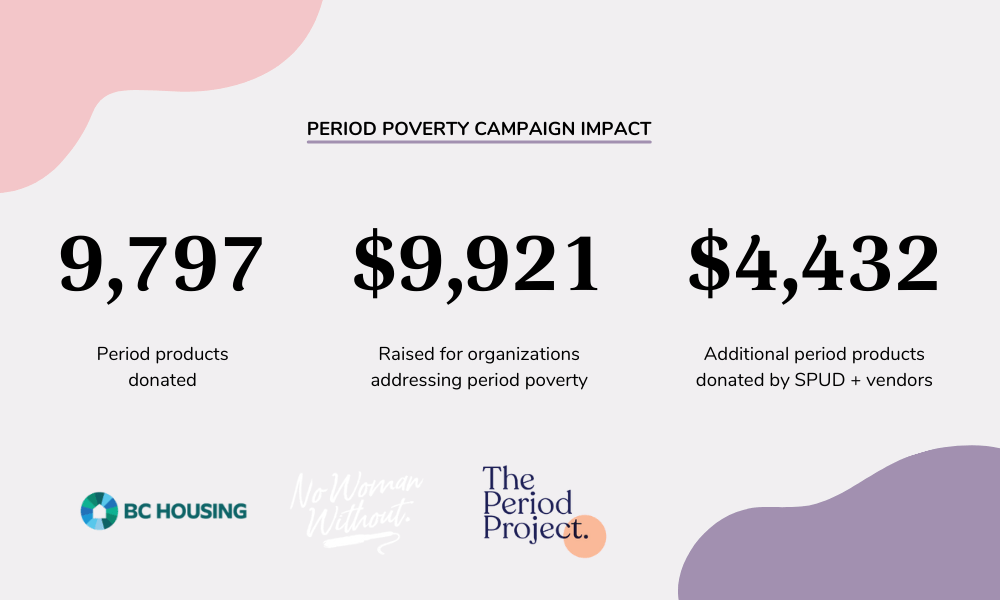 The impact our community made
Together with the Spud community, we donated almost 10,000 menstrual hygiene products and raised just under $10,000 to donate to organizations addressing period poverty. And $4,432 worth of additional period products were donated by Spud and our vendors.
We are also thrilled to hear that the City of Edmonton made the decision to provide FREE menstrual products in all women and gender-inclusive city-owned washrooms.
---
Thank you for being a part of the solution. You can learn more about our sustainability mission, and continue to support your local organizations that address and reduce period poverty in Canada.