On June 4th, Spud was awarded a Silver Canadian Leadership Award by the PAC Packaging Consortium, in the category of "Sustainable Process/Facility" for our Reusable Takeout Container pilot program. This is the second award this program has won- the first being back in November when this program was awarded a winner of the Canadian Innovation Showcase by the National Zero Waste Council and Think Beyond Plastic.
For the Spud team, this award is really something to celebrate as it signifies a progressive change in the packaging industry whereby the sustainability of packaging is increasingly becoming something considered worthy of honouring, rather than packaging being valued solely for qualities such as aesthetic appeal.
In addition, we hope this award will invite other food retailers to a conversation around sustainable packaging and perhaps inspire them to re-design their packaging away from the take-make-dispose model and instead, follow a circular economy model similar to our awarded program.
What is a circular economy?
A circular economy is based on three principles: "design out waste and pollution, keep products and materials in use, and regenerate natural systems". At Spud we work to integrate this system into all aspects of our operations, such as by delivering customer's grocery orders in reusable bins. Our Reusable Takeout Container Pilot Program replicated the same procedure as our grocery orders, but for our Be Fresh salads. See what we mean below!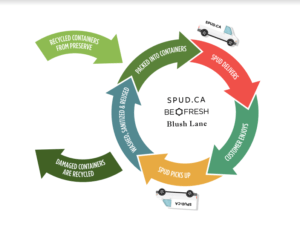 Why is a circular economy important?
A circular economy model is the most effective way of reducing packaging pollution because the model does not rely on downsteam solutions to waste mitigation, like recycling, which have proven to be largely ineffective at keeping packaging out of our environment. In Canada, only about 10% of materials in recycling steams actually get recycled. Instead, our Reusable Takeout Container program allows packaging to be consistently reused, so there is no waste being created.
Further, an added bonus to our program is that our containers are made of recycled content, meaning that these containers actually remove plastic from landfill rather than creating new plastic when they are being made. Packaging made of recycled content is quite rare to find for a variety of reasons so we are grateful to fellow B Corp, Preserve, for creating these sustainably-made containers for our program.
Moving forward
We are launching a second pilot of the Reusable Takeout Container program in Alberta with another local office customer in July. Assuming the program runs successfully, we will make the program available to all Spud customers to enjoy. We are excited to soon provide another opportunity for our customers to participate in the zero waste movement!