With this arctic air hanging around although we enjoy the beautiful sunshine we also have to endure the cold. When it is so cold, I am drawn to comfort foods that warm me up and one I particularly like is a Mushroom Stroganoff. Back in my omnivore days, I would make a beef stroganoff but as a vegan, I have adapted my recipe to use an assortment of mushrooms instead and I think it is even better than the beef version.

Print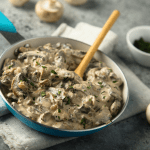 Mushroom Stroganoff
---
3 T. Avocado oil
2 lbs of assorted mushrooms, sliced (I used white button, portabella and oyster)
4 stalks of celery cut into 3 inch strips (julienned)
1 onion, diced
3 cloves of garlic finely chopped
3 T. sundried tomatoes, finely chopped (the ones packed in oil)
1/4 white wine OR 1/4 cup of water with 1 tablespoon of lemon juice
2 T. arrowroot flour or cornstarch
1/4 cup of vegetable broth
1/2 cup vegan sour cream
1/2 cup vegan cream cheese (or chives and garlic Cashew Spread'Em if available)
Parsley for garnish
Salt and pepper
---
Instructions
Heat the avocado oil in a large pot, add the onion and garlic and gently stir fry until they are translucent. Add mushrooms and celery; cover with lid and simmer on low heat until mushrooms have wilted and celery is tender, stirring occasionally. Add sundried tomatoes. Add white wine or water and lemon juice. Stir well and gently boil for 10 minutes to evaporate alcohol if using wine. Add sour cream and Spread'Em; stir well until sauce is thoroughly mixed. To your cold veggie broth dissolve arrowroot flour or cornstarch until completely mixed in. Add to mushroom mixture and gently cook until thickened. Add salt and pepper to taste.
Serve this over fettuccini noodles, zucchini spirals, rice or any pasta of your choice. Garnish with parsley. Serves 4
Please note: I am not a fan of any of the vegan sour creams currently available, however, for this recipe; it is needed to make it a true stroganoff. To get a more authentic flavour, the Chive and Garlic Spread'Em worked like a charm making this dish especially delicious. Bon Appetite!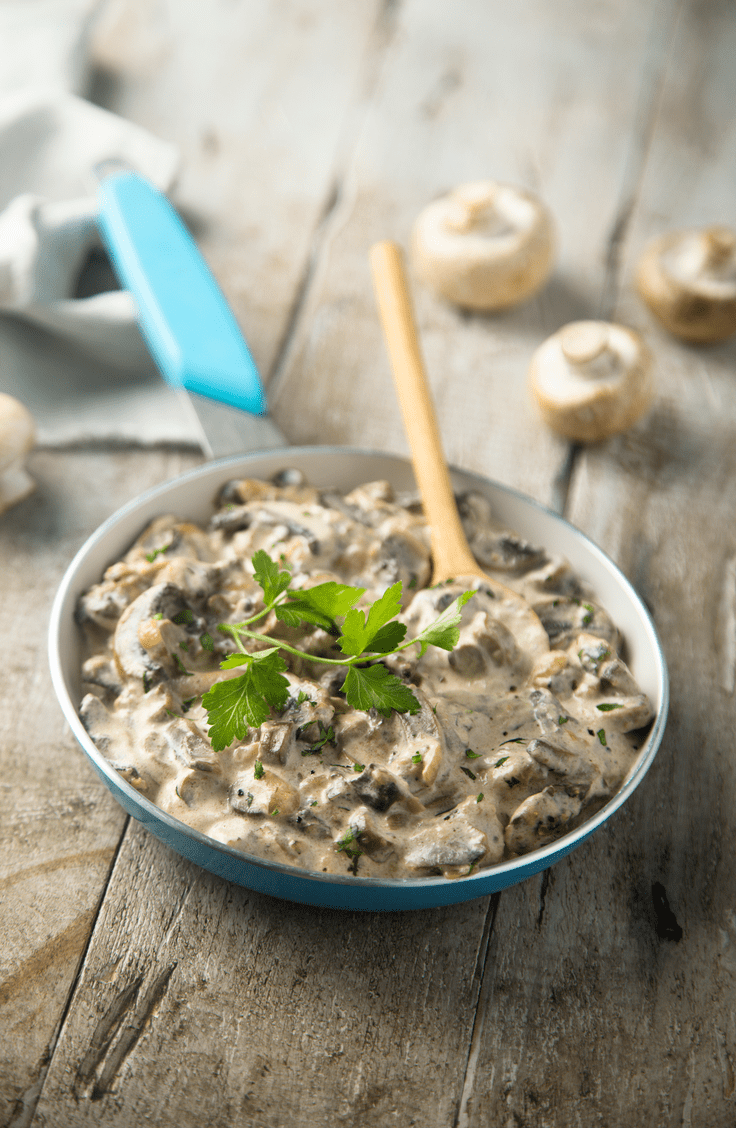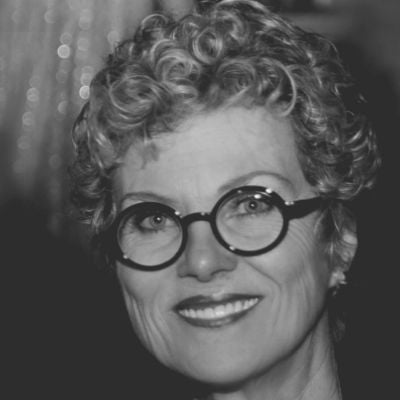 Susan Hollingshead
Susan is our resident vegan. She's been a vegetarian for 20 years, and a vegan for 4. She has researched both lifestyles extensively and is constantly exploring new recipes, add her own twist. She is a long time Spud customer, and now our very own resident vegan blogger!