Prior to moving to BC, my husband and I lived and traveled around Canada and the US in a large motorhome. It was a time we really enjoyed and because our motorhome was built in Amish country in Indiana, we spent a significant amount of time there when we first took possession of our "home". Being a new vehicle there were little bugs that needed to be repaired at the factory under warranty.
As a result of "living" in Indiana, we became very familiar with certain foods that we ate frequently, one being baked oatmeal, Amish style. It took some hunting but I was able to get the recipe for the real Amish version and it was delicious. Of course, that was when we were vegetarian so the fact that it had eggs, milk, and butter in it wasn't an issue. Now it is so I decided to recreate and modify it to suit our current healthier lifestyle. This vegan baked oatmeal is a great breakfast treat and can be stored in the fridge for up to a week. I am sure it can also be frozen.


Print
4 cups whole grain oatmeal (not instant)
1 cup unsweetened shredded or ribbon coconut (optional)
3/4 cup chopped walnuts or pecans (or other nut)
3/4 cup dried cranberries or raisins
1 T. Baking powder
3/4 cup maple syrup or coconut sugar (packed)
3/4 cup melted coconut oil
3 T ground flax meal
6 T warm water
1 1/2 cups cashew milk or any plant-based milk of your choice
1 tsp. vanilla
---
Instructions
Mix flax meal with warm water and set aside for 10-15 minutes
Preheat oven to 350F
Grease a 9 x 13 baking pan.
Mix baking powder with oatmeal, coconut, dried fruit and nuts in large bowl. In small bowl mix nut milk, maple syrup and vanilla. Once flax meal has congealed add it to the liquids
Add wet mixture and melted coconut oil to the oatmeal mixture and stir until well mixed.
Pour into baking pan and bake on middle shelf for 30-35 minutes until lightly browned and it is set in the middle.
Serve warm with cashew milk. Add sliced fresh fruit of your choice or raisins if desired
Notes
Optional: serve with fresh or frozen fruit
Makes 8-10 servings
This can be refrigerated and reheated in the microwave or oven (covered in foil) as needed

Want more oat recipes? Try out these 5 easy overnight oat recipes to fuel your morning!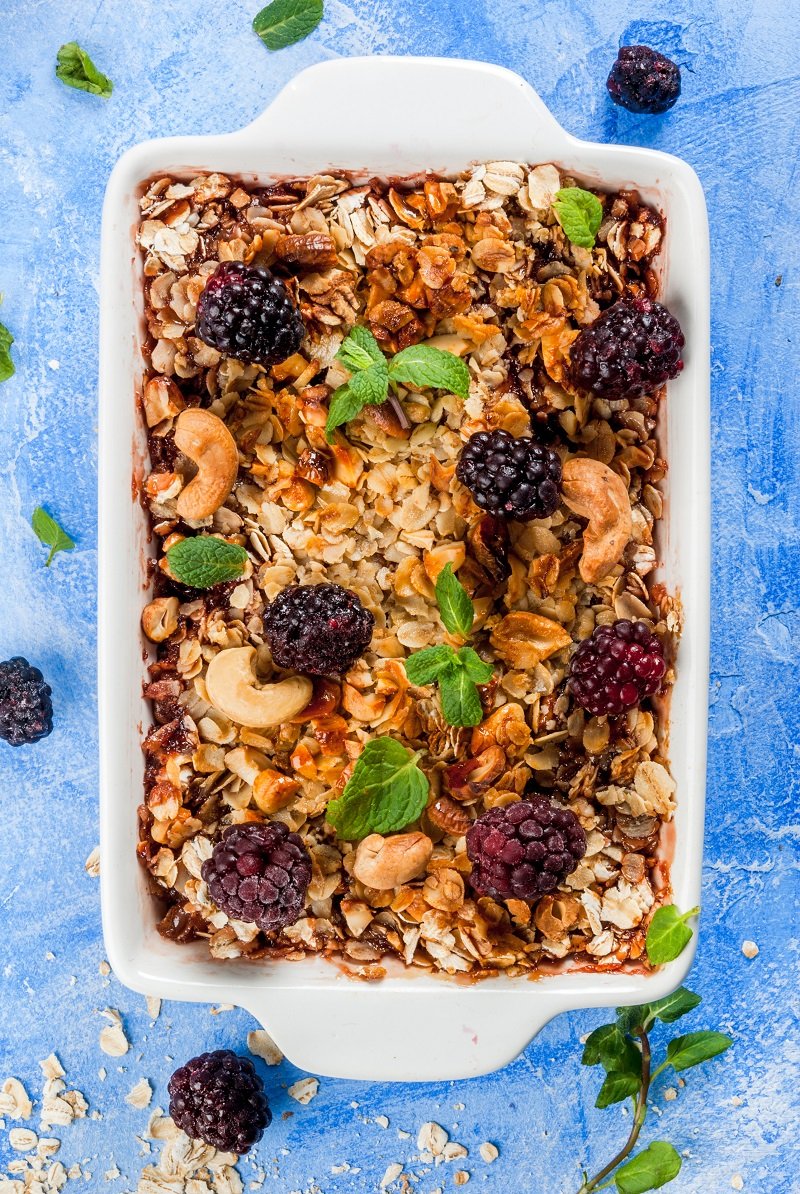 Susan Hollingshead
Susan is our resident vegan. She's been a vegetarian for 20 years, and a vegan for 4. She has researched both lifestyles extensively and is constantly exploring new recipes, add her own twist. She is a long time Spud customer, and now our very own resident vegan blogger!