You may have heard of pumpkin spice lattes, but why not take it up a notch with a pumpkin spice espresso martini? This is a perfect fall recipe to use up the last few scraps of your canned pumpkin.
Looking for more pumpkin recipes? Try: DIY pumpkin spice mixture, pumpkin spice energy balls, healthy pumpkin cookies
Print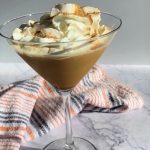 Pumpkin Spice Espresso Martini
---
Pumpkin Purée:
• 1/4 c pumpkin purée
• 1/4 c sugar
• 1/4 c water
• 1 tsp pumpkin pie spice
Pumpkin Spice Martini:
• 1.5 oz chilled espresso
• 1.5 oz chilled vodka
• 1 tbsp light cream or dairy-free creamer
• 1 tbsp pumpkin purée
---
Instructions
To make the pumpkin purée, combine all ingredients in a small saucepan and bring to a simmer on medium heat. Simmer for about 5 minutes until the sugar is dissolved. Set aside to cool.
In a cocktail shaker filled with ice, add all martini ingredients and shake until combined and chilled. Pour into a martini glass. Optional: top with whipped cream and a sprinkle of pumpkin pie spice.