Halloween doesn't have to be all about the sweets! For those of you with less of a sweet tooth who want a spooky snack, allow us to present pizza ghosts! It would also make a great snack to serve at a Hallowe'en party or a pre-trick-or-treating meal.
To make pizza ghosts, start with your favourite crust or pizza dough and sauce. Just use a frozen or premade pizza crust and jarred or canned sauce to make it as quick and easy as possible. (This is also super cute and still just as frightening when made with English muffins or other mini-crusts, especially if you're making pizza ghosts with kids). Cover the crust with sauce, leaving the edges bare, and top with whatever meat and veggies you like. I'd recommend keeping it pretty plain, so the ghosts really stand out.
Slice some mozzarella cheese (or non-dairy cheese like Gusta or Daiya works too) and cut it into little ghosts with a cookie cutter or a knife (although if you don't have a ghost cookie cutter, you may want to re-evaluate your life choices). Since they're melting anyway, the shape doesn't need to be perfect. Everyone knows ghosts don't have a flawless outline. However, if you have a cheese that gets reaaalllyyyy melty and you want them to have a more defined ghost shape, just add the cheese ghosts to the pizza when it's almost done in the oven.
Use sliced black olives for the ghosts' mouth and eyes. If you don't like black olives, be creative! Smaller ghosts can have sesame seed eyes. Little red pepper slivers would make cute ghost smiles too, if your pizza ghosts happen to be friendly. Once your ghosts have faces, bake according to the crust's instructions until the cheese is melty and bubbly.  When you remove your pizzas from the oven, make sure you let it cool a bit before eating. Otherwise your cheese ghosts will be haunting the roof of your mouth all week.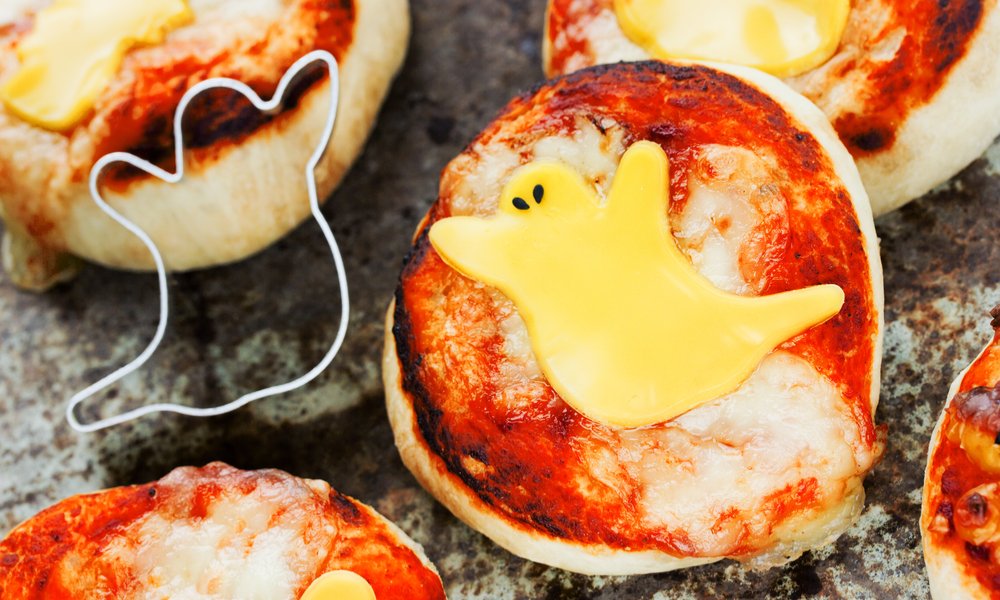 If you're not too freaked out after this terrifying meal, we'd suggest following up with some spooky poached pears for dessert! Happy Hallowe'en!