Olive oil is undeniably a kitchen staple. We use to make dressings and sauces, to bake and sautee, even just to dunk a chunk of bread into. But have you ever used it in a dessert?
Olive oil cake is common in olive-producing regions, but has not gained the popularity it (in my opinion) deserves in North America. It's simple and easy to make, yet has a certain 'je ne sais quoi' thanks to the slight savoriness from the olive oil. It also has a lovely texture – because olive oil is liquid at room temperature, olive oil cake tends to be more tender and moist than it's butter-based counterparts.
The flavour will depend on the olive oil you use, so a high quality oil is important. I used Be Fresh organic extra virgin olive oil, which has a subtle peppery and grassy notes that worked beautifully in this recipe.
Print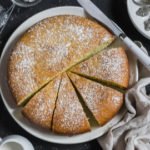 ORANGE OLIVE OIL CAKE
---
Author:

Total Time:

40 min
Description
The sweet, bright flavour of orange is perfect with the subtle savory notes from the olive oil in this cake, but you could also sub in any citrus you like.
Unlike most cakes, olive oil cake actually gets better after sitting for a day – keep it at room temperature, wrapped, for up to four days.
---
olive oil + flour for greasing the pan
1 1/4 cups all purpose flour
3/4 cup granulated sugar
2 eggs (or equivalent egg replacer for a vegan version)
1/3 cup + 2 tbsp Be Fresh organic extra virgin olive oil
1 tsp vanilla extract
juice and zest of one orange (roughly 1 tbsp zest and 3 tbsp juice)
1 tsp baking powder
1/2 tsp baking soda
1/2 tsp salt
icing sugar for dusting
---
Instructions
Preheat oven to 350 degrees. Grease and flour a 9 inch round pan.

Beat eggs and sugar together in a stand mixer or with a hand mixer on medium until light and frothy – about 2 minutes.

While still mixing, slowly add in 1/3 cup of the olive oil and the vanilla.

Add the orange juice and zest and continue mixing for a few more minutes until light and smooth.

In a separate bowl, mix together the flour, baking powder, baking soda, and salt.

Add half the flour mixture to the wet ingredients and mix on low. Add the rest of the flour mixture and mix on low until just combined.

Pour into the prepared cake tin and bake 25-30 minutes, until the top is golden and a tester inserted in the middle comes out clean.

When done, let the cake cool for 15 minutes and poke holes all over the top of the cake with a toothpick or skewer. Drizzle the remaining 2 tbsp of olive oil and let it absorb before removing it from the pan.

Finish with a fine dusting of icing sugar, or if you prefer, top with fruit and whipped cream.
Prep Time:

10 min

Cook Time:

25-30 min