Tayybeh is a Vancouver-based social enterprise, caterer, and food processor that was founded to provide Syrian newcomer women chefs with employment, financial security, and social connections by highlighting their delicious homestyle food. Tayybeh's mission is to inspire, empower and uplift communities using healthy and unique Syrian cuisine. The word Tayybeh in Arabic is the feminine word for "kind" and in the Syrian dialect it means "delicious." So these two meanings are our motto, to spread kindness, compassion, and generosity through delicious food.

Why did you start your business 
I started Tayybeh at the height of the Syrian refugee crisis. Hundreds of Syrian families were arriving in Canada, many were being settled in BC and, as I volunteered to help the resettling of some families, I became acutely aware of the myriads of difficulties they were facing while settling in and rebuilding their lives, especially the women among them. Language and culture barriers, as well as the lack of relevant professional experience all combined made it difficult for women to find employment upon arrival to BC. Tayybeh started then as an effort to help provide newcomer women with employment, financial security, and social connections in their newfound homes in BC, and an opportunity to put their amazing cooking skills and family recipes towards building a new life here for themselves and their families. We started with a series of very popular pop-up dinners, launched a full-service catering company, operated a summer food truck and are now processing and packaging some of our favorite products that you can find in stores here. Five years and a global pandemic later, our team has grown, we have become more resilient, have found new opportunities and are excited about the next phase.  
I am very passionate about working with women. Women are incredibly resilient, creative, dynamic, and will adapt to all circumstances. My work at Tayybeh has provided me with the incredible opportunity to witness our team of women chefs goes from relying solely on the men in their families to being able to significantly contribute to their families' incomes, go from not knowing how to take the SkyTrain to learning how to drive, working on their English and really thinking of BC as their home. There are no words to describe my feelings and the privilege I feel being part of their journey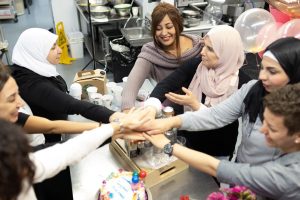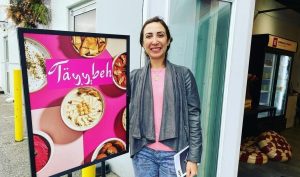 Did you face any challenges? 
Of course, there were so many challenges at the beginning when I started the business. Coming from a different career background in international development, I had much to learn about the food industry and also becoming familiar with Vancouver as I myself had only moved to the city a short while before starting Tayybeh. One of the greatest challenges we faced in the early days was turning our incredible Syrian women newcomers from home cooks to chefs producing food at this scale to a wider society that considers Syrian food new. Also, our staff, many of whom started with Tayybeh within months of their arrival to Vancouver, had to navigate a new language, culture, climate, and other novelties that they were not prepared for. But all of the difficulties we faced paled in comparison to the love, support, kindness, encouragement, and happiness we felt from people across the Lower Mainland. All of our pop-up dinner events sold out within minutes, people snapped up our products from farmers' markets, and we were showered with lots of love every step of the way. We felt we were part of a community. Our catering business boomed as we brought delicious Syrian food to homes, weddings, offices, banquets, receptions, and parties across the city. And just when our refugee women felt secure, empowered, and more financially sustained, the COVID-19 pandemic hit and shut down all of the catering services. With people no longer able to eat together, for Tayybeh to survive, we had to pivot very swiftly to keep our operation going. We moved to expand our line of retail products by promoting our dips, launching more products such as our frozen meals sold through our incredible friends at Spud.ca, and a whole line of Tayybeh Grillz, to name a few. Thanks to the resilience of our team members, for whom there is no challenge that cannot be overcome, we are not only still here, we are continuing to grow.
What does international women's day mean to you? 
International Women's Day is a deeply meaningful occasion for all of us at Tayybeh because it's the day we celebrate two things–our remarkable perseverance as women who have overcome great adversity and challenges to be where we are, and our international, global, heritage and history which we bring to bear with our unique food and customs built on generosity and kindness. On this day we acknowledge how far we have come as women in the world and how we can continue to grow. It's also a reminder that, as an all-women operation, we are committed to using the success we achieve to uplift and support other women. That is why every year, on this day, we actively support an initiative, project, charity, or organization that stands up for women. This year a portion of our sales on International Women's Day will go to Nisa Homes BC–an organization that runs transitional homes for women and children escaping domestic abuse and homelessness.  
Who is your female role model? 
 While there are so many remarkable female role models out there that we can find inspiration from and deserve emulating, the one that has been the most influential for me is my mother Sheila. Forever a force of encouragement, optimism, and wisdom, my mum has an immensely big heart and is always dedicated herself to uplifting everyone around her. My mother always set an example for me, a woman who always looks at the bright side of life, she instilled in me the need to remain optimistic at all times despite all challenges and realize there are no limits to what a woman can achieve at any age. She has been my backbone every step of the way and I find myself modeling her in every way. I credit much of my success to the tracks she laid for me by making sure I pursued my dreams without limits. 
Why do we need more women in leadership? 
We need women in leadership because we belong and deserve to be in leadership positions, much like our male counterparts. For too long, women have been shunned, underappreciated, and underpaid. Obviously, women have proven that they are more than capable of leading with incredible creativity, acuity, and compassion. Most organizations and institutions can benefit from having women leaders as they bring a holistic view of business that goes beyond just the bottom line and productivity. Women are able to value and privilege the qualitative aspects of business, from the emotional and affective to the creative and aesthetic. These are all really important for institutions and work in the 21st century. 
What is woman's empowerment moment that you've had or one that that inspires you? 
Being an all-women business, there are so many moments of women's empowerment that are a testament to the resilience of the human spirit and the strength of women in particular. One of the most remarkable moments is seeing the women of Tayybeh receive prestigious awards and fill dining halls across the city just months after arriving in Canada escaping the war in Syria. Another moment came when I spoke to one of our remarkable Tayybeh chefs about the impact of COVID on our operation. Seeing that I was disappointed by the shutdown of all catering services across the BC, she comforted me and said, "don't worry, we've been through much more difficult times." She added that "we can overcome this and it will all eventually pass." Her confidence and certainty came from a place of inner strength and resilience in the face of tragedy. And in the end, she was right!
Have you faced any challenges in your career due to being a woman? How have you overcome them? 
I am fortunate to have been born into a family that sees the value of women being productive members of society. For this reason, from my early days, I was encouraged to pursue my dreams. However, recognizing that in my home country of Egypt and across the world, many women don't fare this way, I became motivated to change the status quo around me. I completed my degrees in International Development and Anthropology and began working in development with the distinct objective of uplifting women through job creation, work parity, reproductive health awareness, and numerous other initiatives around the world to strengthen women and render them more resilient. Noting that women are often underpaid compared to their male counterparts when it became my turn to run a business, I wanted to make sure Tayybeh empowers women in every way.  
What is the most important piece of advice that you have been given?
Rather than advice, it is an Arabic saying that I try to live by: "Do good and throw it in the sea'. It means always try to be kind, generous, and supportive to everyone without expecting anything in return. 
What is one message you would give to any young woman or girl reading this post? 
Do not be afraid of being a leader. You can be anything and anyone you want to be if you put your mind to it. 

Favorite charity supporting woman or female-owned company/product? 
Given that I used to work in international development, I know of many organizations doing incredible work to support women and it is hard for me to find a favorite. In terms of a product, I always love the story of Kindred Cultures water kefir. I love how Lindsay was driven to start this business following her attempts to help her younger son's health issues. Great story, great product 🙂