In honor of International Women's Day, we're highlighting some inspiring female entrepreneurs we've had the privilege of partnering with here at Spud.  Introducing Donna from Little Creek Dressings. 
Donna bottled her first  Little Creek Dressing in 1995. At the time, the government was encouraging farmers to add a "value added" product to help support farming and with that in mind, Little Creek Dressing took off! Salad dressing to compliment her husband's mixed green farming. 
What was your inspiration for starting Little Creek?
In 1984 my husband, Dale Ziech, and my 12-year-old son, Jubi moved to my family property, Little Creek. My husband was an orchardist, and I was a potter. We literally cleared our 6 acres of the forest with the help of my family, with the intention of planting an organic orchard and setting up a pottery studio for me. 
We built our house  (using mostly recycled materials and getting help from family and friends) and shortly after moving into our very small new home, I found out I was pregnant with twins. So much for continuing my vision of being a potter but what a beautiful amazing gift for us all!
I worked off the farm to provide an income so we could develop our farm which didn't become an orchard, but instead, Dale started growing salad greens to supply a few local restaurants and stores that carried certified organic produce. He was the first farmer to commercially grow organic greens in the Okanagan and our farm, Little Creek Gardens, received certified organic status in 1991.
When my daughters were 9 years old I decided I wanted to be at home with them and do something more creative. I had a small building that was going to be my pottery studio, so I decided to convert it into a Little Creek Dressing "studio".  It was just an idea…I had no money, no business plan, but a strong support network of family & friends that were willing to help.
At that time, we grew raspberries, basil, and garlic, all of which I used in my dressing.  
I contacted the Summerland Research station and a food scientist took the dressing to be tested and gave me information on what I needed for producing the dressing and labeling requirements.
I hand drew my label and a neighbor who had a computer, and knew how to use it, helped me create the first label which my twin daughters and friends' kids that were visiting from Alberta, hand-colored. We printed them on a sheet of paper, cut out each label and glued each label on each individual bottle which at the time was a 375ml bottle as I loved the look of it and since we were in wine country I felt it suited our market: Elegant, gourmet, and healthy. One fan described the dressing and presentation as "Art in a bottle" I quite liked that, having been an artist!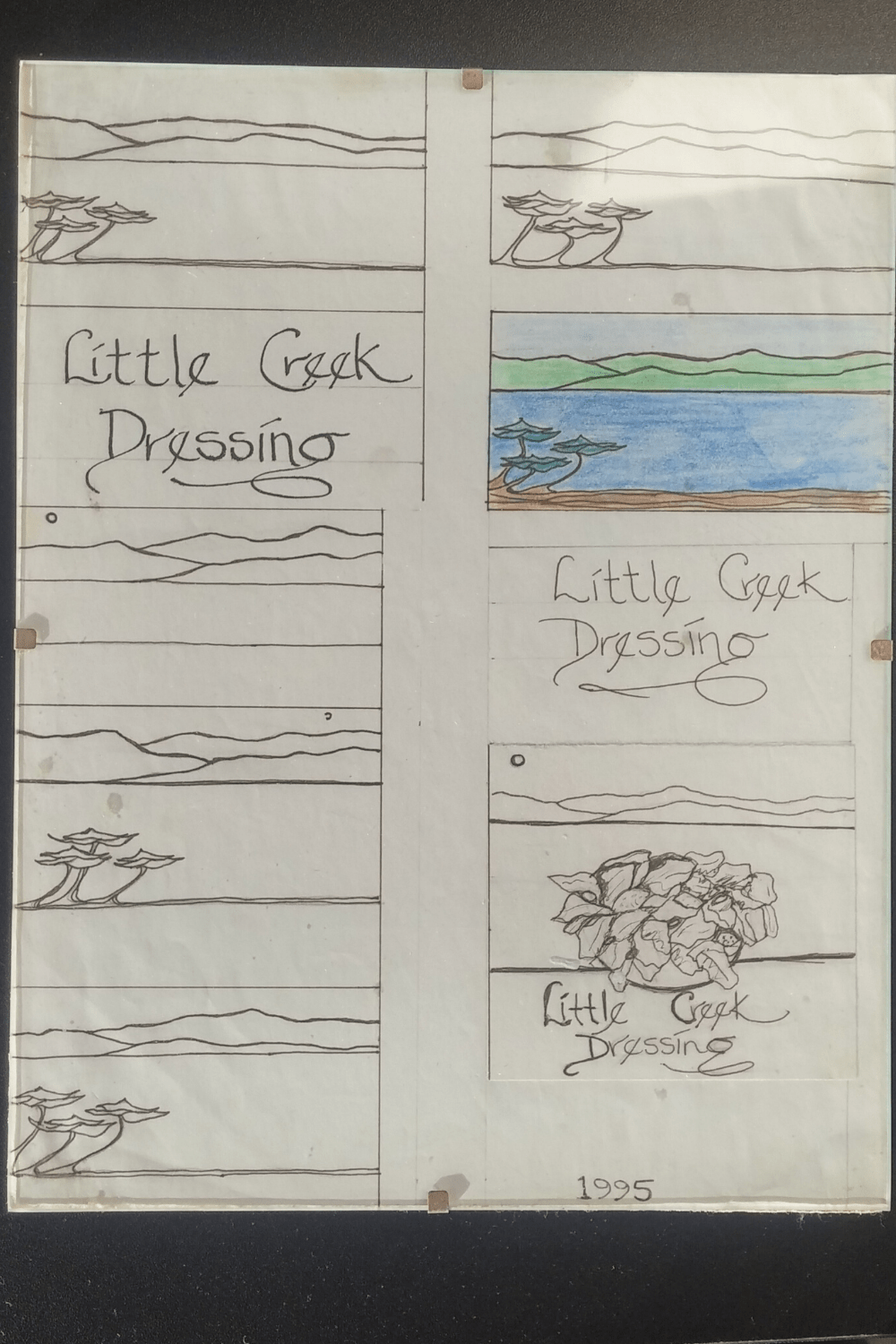 In late July of 1995, I approached our local health food store and asked if I could do a demo with my dressing and Dale's salad greens… and that was the beginning!
There have been many ups and downs including my small kitchen burning down in 1998 but I persevered!
How do you decide what to feature/create? 
All of my dressings are made with love, light, and gratitude. We honor our planet and are so grateful for all the support we've had along the way. I have many testimonies from people who say they eat more salads & vegetables because of Little Creek Dressing. There's just something in the flavor that everyone loves!
I use what we grew on our farm & create flavors that connected people to the Okanagan and the fruits are grown here, and I have put dedications on most of my dressings.
Summer Strawberry (previously known as "Strawberry Jalapeno") 
 I created this as we grew strawberries on our farm and I knew other growers in the area & wanted to support their farms by buying their organic berries. Eventually, as the awareness of organic grew there wasn't enough local supply and I had to source from the lower mainland. 

Cherry Balsamic
I made this with the intention of showing that we are one world and we can all work together to create goodness in our world. In my case, it was with salad dressing & using balsamic vinegar from Italy and pairing it with organic cherries from this part of the world. It was after 9-11 and I wanted to create a positive intention of working together in our world. This dressing has a dedication to "World peace, understanding and unity".
Okanagan Caesar
Was inspired when a dear friend had her wedding at Little Creek. She was vegan so I made a caesar dressing for her celebration that didn't contain the standard caesar ingredients. I didn't come up with the final recipe until awhile later as it wasn't quite right until I decided to use my Okanagan Original's recipe & alter it to make it more of a caesar flavor. 
Okanagan's Original 
This one is a dedication to my dear Dad, John Denison. He was the original Ice Road trucker, has a book written about him "Denison's Ice Roads" & in 1998 received the Order of Canada for his work in the north. The Denison family were original settlers in York, now Toronto, in the late 1700's. There were many sons so some of them came out west to settle. My grandfather was born in Calgary and came with his family to Vernon in the 1800s. Our family motto is "Perseverando" & I do feel I have inherited that genetic disposition!
Asian Apricot 
Was created to honor our family property which is called Little Creek. My great aunt and uncle bought the 30-acre property on the west shores of Okanagan Lake 20 km from Kelowna in 1947 & named the property "Little Creek" after a small creek that ran through the land. In 1969 my parents bought the property from them and in the 80's they subdivided it amongst their 4 children, one of which is me. This dressing honors our land and all the people that have supported my success over the years.
If you could tell yourself one thing before you started your business now, what would it be? 
Seek professional business advice on how to figure out margins, costs & how the grocery industry operates.
What do you hope to be instilling in your customers through their purchase of Little Creek Dressings?
The awareness of certified organic and the importance of supporting the planet as well as local/Canadian made products & small family businesses. We are the only certified organic salad dressing produced in Western Canada and we wanted to make a statement regarding supporting our planet. 
Our mission is to create wholesome, flavorful foods that support healthy eating, healthy living, and a healthy planet.
Last but not least, what is your favourite dressing flavour? 
My favourite these days is Okanagan Caesar.