Fruit season is one of my favourite seasons, but the problem is that it is so short, so I have to eat as much of it as I can. To get all the fruits in that I can, I had to find a way to fit it into breakfast, lunch and dinner. At first, it seemed like a challenge, and then I discovered grilling fruit! Giving fruit, especially peaches, nectarines, and apricots, a quick grill, caramelizes all the natural sugars, so good!  One day I had this idea to add the grilled fruits to a Panzanella salad, and it has now become my summer staple.   
What is a Panzanella salad? A Panzanella salad is a Tuscan chopped salad that uses stale bread, onion, and tomatoes. It is dressed with olive oil and vinegar and topped with basil and sometimes mozzarella cheese. The options are limitless. Panzanella, and grilled fruit, are the perfect side to meats like chicken, steak, shrimp or salmon, but is also excellent on its own.   
Here is how you make Grilled Fruit Panzanella Salad:
Print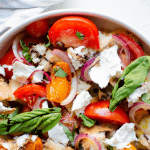 Grilled Fruit Panzanella Salad  
---
3 fruits; peaches, nectarines, apricots, etc. Halved, grilled and sliced
1 cup of chopped stale bread
3 tomatoes, sliced
1/4 red onion, sliced
Mozzarella cheese
Basil
Salt and Pepper
Aged Balsamic Vinegar
---
Instructions
On a hot grill, grill your fruit until there are grill marks and the peaches are warm.  Slice up the tomatoes and onions and once the peaches are cooled slice them up as well. Arrange on a plate or toss in a bowl. Add the bread and place a few tares of mozzarella cheese around the fruit and vegetables. Tear up a few leaves of basil and sprinkle on the dish with a pinch of salt and pepper and drizzle some olive oil and aged balsamic vinegar on top. Serve and Enjoy!