Grapefruit tends to be the underdog of the citrus family, with orange, lemon, and lime hogging the culinary spotlight. Some claim it's too hard to handle, or too bitter, but I'm a tireless promoter of the grapefruit. We love finding new ways to let it take centre-stage, and not just because it's delicious. It also boasts a TON of benefits for your skin, and as we're spending more time out in the sun this time of year, our skin can use all the help it can get.
How Is Grapefruit Good For Your Skin?
Vitamin C
Grapefruit has the highest vitamin C concentration of any citrus fruit. Antioxidant vitamin C is also key for helping to delay the signs of aging due to free radical damage. In fact, a 2007 study published in the American Journal of Clinical Nutrition found that middle-aged women who consumed more vitamin C from food sources appeared to have fewer wrinkles and less skin dryness. Vitamin C is also essential for collagen production in skin, a key when it comes to keeping skin looking youthful and wrinkle-free.
Lycopene
Grapefruit contains the antioxidant lycopene which also benefits the skin. Eating high concentrations of lycopene has been found to increase the levels of antioxidant carotenoids in the skin, which may have a positive impact on skin aging. It's been shown to guard against sun damage and inflammation in general
Naringin
Grapefruit also contains the phytochemical naringin. Naringin gives grapefruit it's bitter taste, and it's also thought to be the reason that grapefruit can interact badly with some medications, causing too much or not enough to be absorbed into the bloodstream. But aside from those fun facts, naringin reduces toxins in the liver, which results in healthier skin. And it's not like having a healthier liver is bad on its own.
How Can I Harness Its Powers!?
Grapefruit is beneficial when used internally (like, eaten) and externally. We recommend both, simultaneously, for an all-encompassing grapefruit experience.
Eat It!
Because grapefruit has a balance of sweet, tart, and bitter flavours, they're actually super versatile. You can use them pretty much any place you would a lemon or orange, but I like recipes where they are the star. These are two of my favourite.
This is the fancy version of the out-dated diet classic, half a grapefruit with cottage cheese. Broiling a grapefruit topped with brown sugar and spices results in a warm, sweet juicy delight that is perfect for breakfast, dessert, or even just a snack. Serve with some grass-fed yogurt or even ice cream.
For a cooler take on the grapefruit, try it paired with mint this refreshing sorbet – you don't even need an ice cream maker, just a blender or food processor will do.
For this recipe, grapefruit gets a slightly savoury twist.  It's tartness is balanced out with rich, creamy avocado and a garlicky cilantro vinaigrette.
Smear it on your face!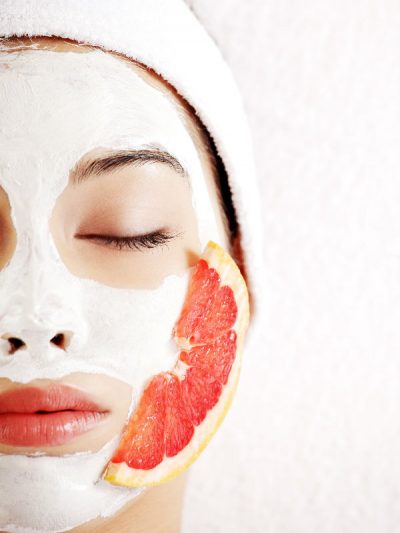 Try one of these masks using grapefruit juice to really amp up it's skin boosting abilities:
Creamy Grapefruit Mask for Oily or Acne-Prone Skin
1 egg white
1-2 tsp grapefruit juice
1 tsp sour cream
Whisk your egg white until fluffy and mix the juice and sour cream in until you have a creamy consistency.
Apply to clean, dry face, avoiding eye area, and rinse off with tepid water after 15-20 min.
Grapefruit Oatmeal Mask to Combat Signs of Aging
1 tbsp honey
1/2 cup oatmeal
2 tbsp grapefruit juice
Mix ingredients together and apply to clean, dry skin, avoiding the eye area.
Once mask is dry, wipe face clean with damp washcloth and follow with moisturizer.