Simple No-Bake Easter Cookies
Looking for an easy Easter project to make with the kids? Look no further. These chocolate oatmeal Easter cookies come together in a few minutes, and only require a pot—no baking!
BIRD'S NEST COOKIES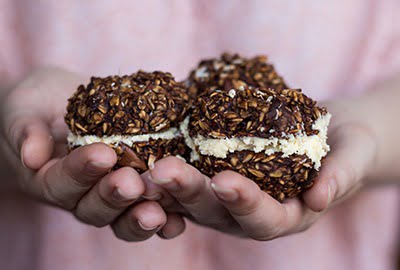 Ingredients
1 cup sugar
1/4 cup almond milk
1/4 cup coconut oil
1 tbsp. cocoa
1/4 cup peanut butter
2 cups quick oats
1 cup unsweetened coconut
1/2 tsp. pure vanilla
small chocolate eggs (optional)
ice cream (optional)
Directions:
Mix sugar, almond milk, oil, and cocoa together in a pot. Bring to a boil, stirring continually.
Remove pot from heat. Add remaining ingredients (except for chocolate eggs, if using).
Drop spoonfuls onto waxed paper. Make indentations in the tops of the cookies if using chocolate eggs. Cookies will harden as they cool.
Add chocolate candies in indentations if using. To make ice cream sandwiches, spread a layer of ice cream on a cookie and top with another.
Of course, these are not just Easter cookies – so don't be surprised to find yourself whipping up a batch whenever you need a sweet treat – and something to keep little hands busy.