The season of gift-giving is upon us! There are endless options everywhere around us, but something about making it yourself and giving a gift a person can enjoy and use makes it all the more special.  Not only are edible gifts great gift that comes from the heart, but they are easy on the wallet, and consumable gifts is a more sustainable way of gifting! Try these 5 edible gifts everyone will enjoy right away! 
Roasted Nuts 
Such a simple delicious gift, or homemade addition to your gift! Make a large batch to give as small gifts to relatives, neighbours, and co-workers!
Print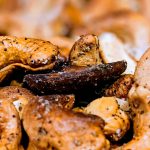 Roasted Nuts
---
---
Instructions
Preheat the oven to 350 and line a baking sheet with parchment. Combine all ingredients in a small bowl and stir until the nuts are all evenly coated. Bake for 8 to 10 minutes until everything is nice and golden brown. Once the nuts are removed from the oven, let them cool on the baking sheet. Store this nutty treat in a glass container and enjoy! 
Home-Made Mustard 
I don't know about you, but all my friends devour this mustard, all year round, making it the perfect practical (and delicious) edible gift! I think this year for Christmas I am going to give everyone their own jar! Check out my favourite mustard recipe. 

Cookie Mix in a Jar 
Who doesn't love cookies? Cookies in a jar is an edible gift that is fun to make and to enjoy. These DIY gift ingredients can be adjusted to the person you are giving it preferences, add raisins if they love raisins, include candy cane chunks for festive cookies, etc.
Top it off with a personalized note to the instruction tag! Here is what you need to make cookie mix in a jar:
Print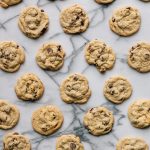 Cookie Mix in a Jar
---
---
Instructions
Combine the all-purpose flour, baking soda, and salt. Place in the bottom of the jar. Using the back of a spoon. Pack it down and make it smooth. Add the brown sugar and pack it down as well. Then finally add the granulated sugar. Add the roughly chopped chocolate on top and finally add the lid and decorate using any scrap fabrics or cotton ties and decorate using cinnamon sticks or any other compostable decor. 
Include a label with the following instructions: 
Preheat oven to 375F. Beat ¾ cup of softened butter (or any butter substitute) 1 large egg. ¾ teaspoon vanilla extract in a large bowl. Add cookie mix and mix well! Drop tablespoon-size onto an ungreased baking sheet and bake for 10 min or until golden brown. Let cool and enjoy! 
Christmas Tea Tree 
Give a decoration that can be enjoyed longer than the holiday season! This fun DIY gift can be customized to the person's tea preference and fun for you to make! Get the instructions for this tea Christmas tree and make it for the tea lover in your life now!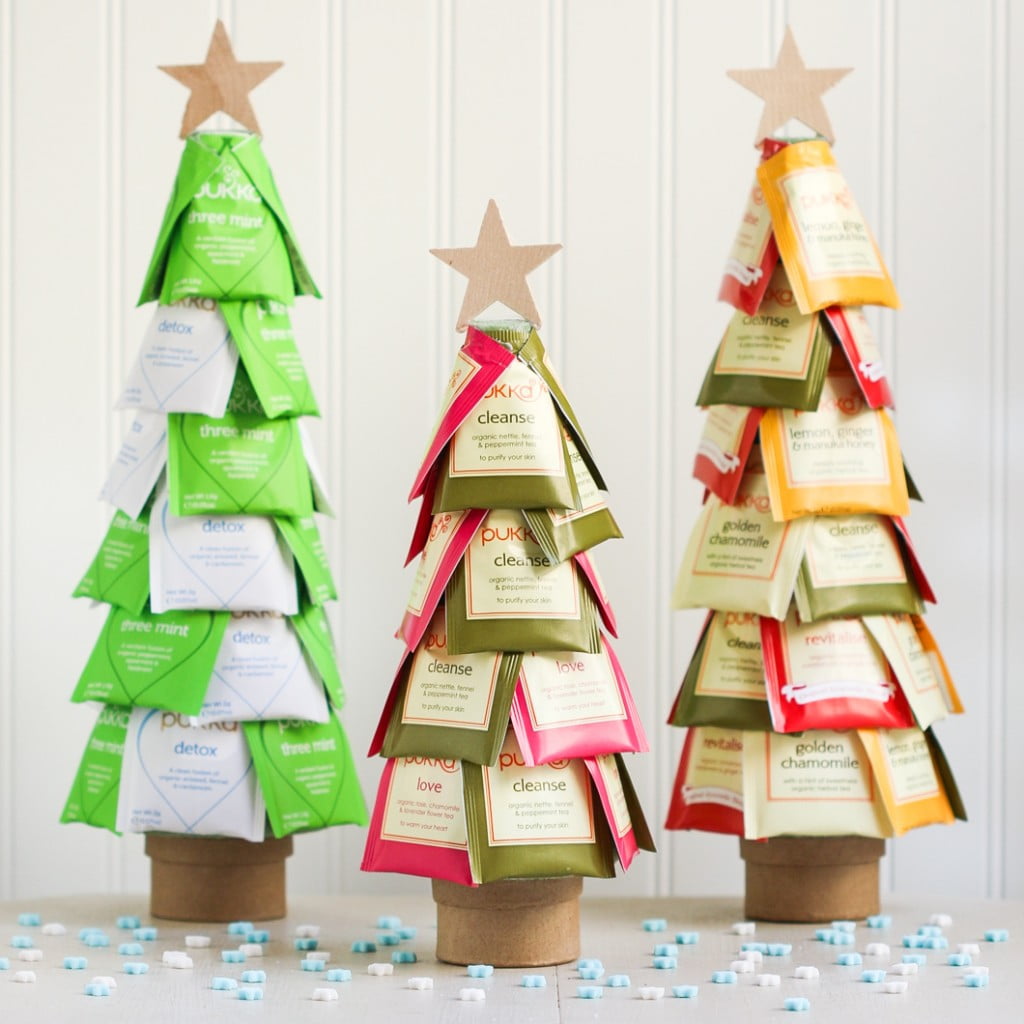 Hot Chocolate mix with Handmade marshmallows 
Fun to make for your inner chef or if you want a fun challenge. Maybe give this one away or keep it to enjoy a cup yourself!  Store in an airtight jar, and add a little decoration for some seasonal fun. This hot chocolate mix can be used with any of your favourite milk (dairy and non-dairy options both taste amazing with this mix!) 
Marshmallows: 
I made these marshmallows, and all I can say is THEY ARE SO GOOD! Everyone I gave them too loved them. If you are up to the challenge, I highly recommend trying to make these to make your gift extra special. Or try these vegan marshmallows. 
Print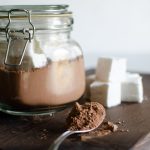 Hot Chocolate Mix
---
---
Instructions
Mix all the ingredients in a mason jar. Decorate with some fabric scraps or compostable decorations with a note saying: Add one heaping tablespoon to 1 cup of milk and heat in a small saucepan over medium heat. Continue to stir so it does not burn.