We've stocked our shelves with the Best Holiday Liquor
This year is the year we're back to entertaining outside our bubble and we're moving along gleefully, with caution! We've put together our suggestions for the Best Holiday Liquor this year and have included some cider, beer, spirits, and our favourite wines. Happy holidays and stay safe.

Strange Fellows Brewing Blackmail Northwest Stout $18.11
Brewed in East Vancouver, this beer has roasted coffee and chocolate aromas with a rich, round and slightly sweet flavour. The ravens represent those that brought news back to the Norse god from the land of men. Perfect with a tray of fresh oysters, or sharp cheddar. For suggestions on cheese, check our post on Snack Boards

Sea Cider Rumrunner $23.11
This Vancouver-Island cider is Crafted with heritage apples and aged in rum-soaked bourbon barrels. Aromas of brown sugar and rum show the complexity of this semi-dry sparkling cider. Delicious cold or mulled and heated with butter. Rumrunner pairs well with steak, Caribbean, and Moroccan food.

Sons of Vancouver Amaretto No 82 $56.24
Hailing from North Vancouver the No. 82 Amaretto is made with five simple, whole ingredients. It starts with apricot kernels, Bourbon vanilla beans and orange peel and is then sweetened with Demerara and BC blackberry honey to create one tastefully balanced liqueur.

Amaretto Sour
1 egg white
1 dash bitters, plus more for garnish
2 oz. No. 82 Amaretto
1/2 lime
Add one ice cube, egg white, and a dash of bitters to a cocktail shaker. Shake until the ice cube is melted. Add amaretto and the juice of half a lime to the shaker. Add new ice and shake for about 30 seconds.
Strain into a cocktail glass or pour everything into a rocks glass. Add a few drops of bitters on top of the foam and enjoy.

Straight and Narrow Rosemary Gin Cocktail $19.11
What could be simpler than a cocktail in a can? Aromatic, fresh, and made with a custom handcrafted gin distilled with rosemary sourced from Ravenhill Herb Farm on Vancouver Island. There's also a Pear Rhubarb and Lemon Lavender version or a pack of all three.

Russell Brewing Craft Crusher Mixed Pack $31.24
Three of each of Russell's faves: Pale Ale, Craft Lager, El Dorado Blonde and West Coast IPA. Something for everyone at the party.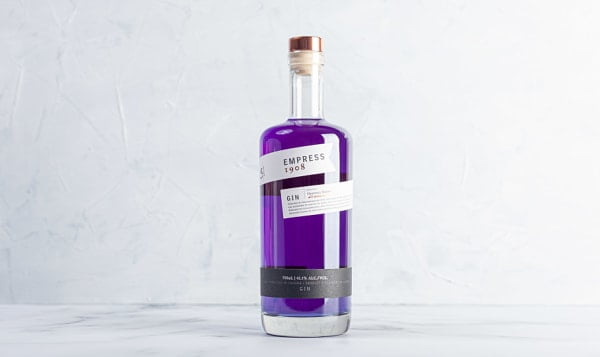 Empress 1908 Gin $64.99
Handcrafted in small batch copper-pot stills, Empress 1908 Gin is a collaboration between Victoria Distillers and the legendary Fairmont Empress Hotel in Victoria, BC. On top of traditional botanicals, they add a signature blend of black tea served at the Empress Hotel and butterfly pea blossom, an exotic herb that balances the traditional citrus notes of gin with a warm herbal earthiness and gives the gin its natural indigo colour.

Telmo Rodrigues Corriente Rioja $31.24
A blend of Tempranillo, Garnacha and Graciano, the name Corriente Rioja denotes is an expression from the turn of the century, referring to a pure, unclassified wine meant for everyday drinking. Polished tannins with juicy flavours of bramble, ripe plum and subtle spices that come through on the finish.

Rioja Alta Vina Alberdi Rioja Reserva $52.49
Bright, deep ruby colour with dark cherry hues, abundant notes of red fruits, vanilla, cinnamon, and hazelnuts. Balanced acidity and polished tannins and a soft, round, mouthfeel. Great with grilled meat and stews.

Haywire Sparkling Pink Bub $32.99
This Okanagan wine is made from Pinot Noir and Chardonnay grapes with primary fermentation in both concrete and stainless-steel tanks before secondary fermentation in the bottle Hints of wild strawberries with a touch of sweetness and mouth-watering acidity; the body is fresh and lively with lovely depth. Perfect with a charcuterie and cheese board.

Okanagan Crush Pad – Narrative Rosé $21.99
A combination of Pinot Noir grapes harvested in Summerland ad Oliver; this wine is salmon pink due to the 12 hours of skin contact. It's then lightly pressed and naturally fermented in concert tanks. The wine has bright berry fruity aromas and berry and herbal notes on the palate, a dry wine with good acidity and a long finish.

Lar de Plata Cava $19.00
From the Cava region in Spain, this sparkling wine is crafted from Macabeo and Parellada grapes. The Spanish version of Champagne, a less expensive way to serve bubble at your next soiree. Works well with seafood empanadas!

Cuvee Hortense Entre-deux-Mers $31.24
A Bordeaux blend made from a Sauvignon Blanc and Sémillon.  This fresh wine has a vibrant acidity and flavours of lemon zest, grapefruit, and apricot with hints of toasty oak. 
All the best for the holidays, I hope you try some of our Best Holiday Liquor picks!