Sherry Strong's Sweet Potato, Black Kale, Black Bean Soup.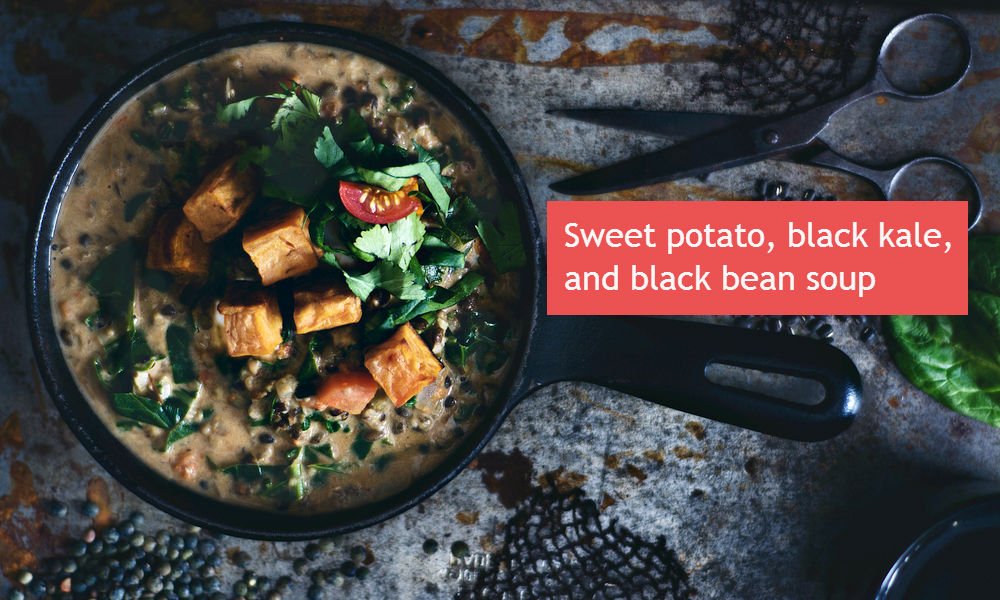 Sweet Potato, Black Kale, Black Bean Soup
Ingredients
Spring or filtered water to cover ingredients 2 small carrots, diced
1 small onion, diced
1 stick of celery, diced
1 half leek, washed and sliced 1 clove of garlic, minced
1 tbsp. cold-pressed coconut oil 1 tsp ground fennel
1 tsp. ground cumin
1 tsp. ground coriander
1⁄4 tsp. ground pepper
1 medium potato, diced
1 medium sweet potato, diced
1 c. cooked black beans
3 sprigs of thyme
1 tsp. natural salt
4 leaves of black Tuscan kale, thinly sliced (also called Italian kale or dinosaur kale)
Method
In at least a 3-litre saucepan, sauté carrots, onion, celery, leek, and garlic in coconut oil for 5 minutes, on a low heat. Add spices and sauté for 3 minutes.
Add potato, sweet potato, black beans, thyme, and salt. Cover in water about 1 cm over the top of ingredients.
Simmer over a low temperature until the potatoes are tender and easily broken. When soup is thick and potatoes are falling apart, remove from heat and stir in chopped kale. Serve and enjoy.