Make your own Sugar Pumpkin Puree
Pie pumpkins, also called sugar pumpkins, are smaller in shape than the monstrous pumpkins you'd find at your typical pumpkin patch. They have more flesh, making them a good choice for cooking. The pulp also has a better texture and is sweeter. 
Get your sugar pumpkins from Spud!
You can make your own pumpkin puree for pies and soups. Try this is your smoothies, or stir into a coffee or latte for your own pumpkin-y beverage.
Print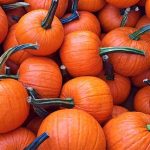 Sugar Pie Pumpkin Puree
---
---
Instructions
Preheat your oven to 400°F (204°C). Line a sheet pan with parchment paper or foil.
Slice the sugar pumpkin in half lengthwise, scoop out the seeds (you can roast later)
Place the pumpkin halves cut-side down on the sheet pan.
Roast for 35 to 45 minutes, or until the pumpkins have partially collapsed, and the flesh is very soft and is beginning to pull away from the skin.
Scoop out the flesh and puree until smooth in a food processor. Store in the fridge for up to a week or freeze for later.
Notes
Homemade pumpkin puree is thinner and more watery than store-bought canned pumpkin puree. If you use it as is, the higher water content can affect baked goods.
To thicken it to your desired consistency, strain the pumpkin puree in a sieve lined with cheesecloth over a bowl. Discard any liquid (or use in soup) and use as directed.