Meal Kits' Not-So-Secret Packaging Problem
Meal kits allow busy people to cook gourmet meals at home easily, without the hassle of grocery store lineups, bulk ingredient buying, and food waste. Here at Spud, empowering people to eat wholesome, home-cooked food is what we're all about. But, as many media organizations like Wired, The Observer, and Mother Jones have reported, meal kits come with a massive cost: insane amounts of single use plastic packaging. This is a huge problem. Most meal kit services wrap each individual single-serving ingredient in separate single-use plastic packaging. A single carrot, a tiny container of cream cheese, and so on. In 2017 meal kit delivery services were worth an estimated $5,000,000,000 in the US alone. That's a whole lot of packaging going out in the world!
We wanted to offer our customers the same convenient access to quality, gourmet meals, but didn't feel right about following the mainstream methods of wasteful plastic packaging….So, we set out to design Canada's most sustainable meal kit!
Crafting Canada's Most Sustainable Meal Kit
To start, we knew we had our business model on our side. Instead of shipping long distances through third party courier services in insulated cardboard boxes, we have a dedicated fleet of trucks that are already on the road delivering organic groceries via fuel efficient routes. Our method bypasses transport to courier depots, since our trucks deliver right from our warehouse.
Packaging
Here's the big one: packaging. Instead of single-use insulated cardboard boxes, we deliver all groceries (including meal kits!) in sturdy reusable bins. When possible, we deliver produce loose in bins avoiding packaging all together! That's because our packaging decisions are guided by the Zero Waste pyramid.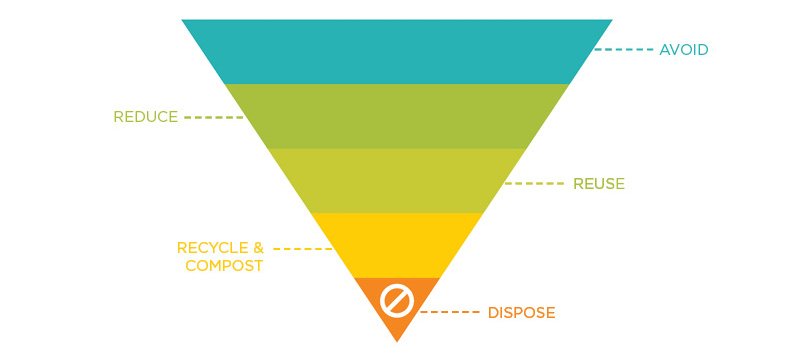 We can't avoid packaging altogether, so we turned to reusables like our freezer jackets, and compostables/recyclables when reusables weren't feasible. For a full rundown check out our detailed meal kit packaging page.
*Note: please return compostables and recyclables in your Spud bin and we'll dispose of them properly
Our First Meal Kit Trial: Compostable Bags
We deliver meal kits as part of grocery orders, so we needed a way to put all the meal kit ingredients + recipe card in one place. For our first phase, we settled on a 100% compostable + recyclable kraft paper bag. This way, if the bag remains pristine it can go into paper recycling. If it becomes food-soiled, it can still go into the compost! We used stamps instead of non-recyclable/compostable stickers, and didn't include a plastic liner or clear window on the bag, as those features also make them non-recyclable/compostable.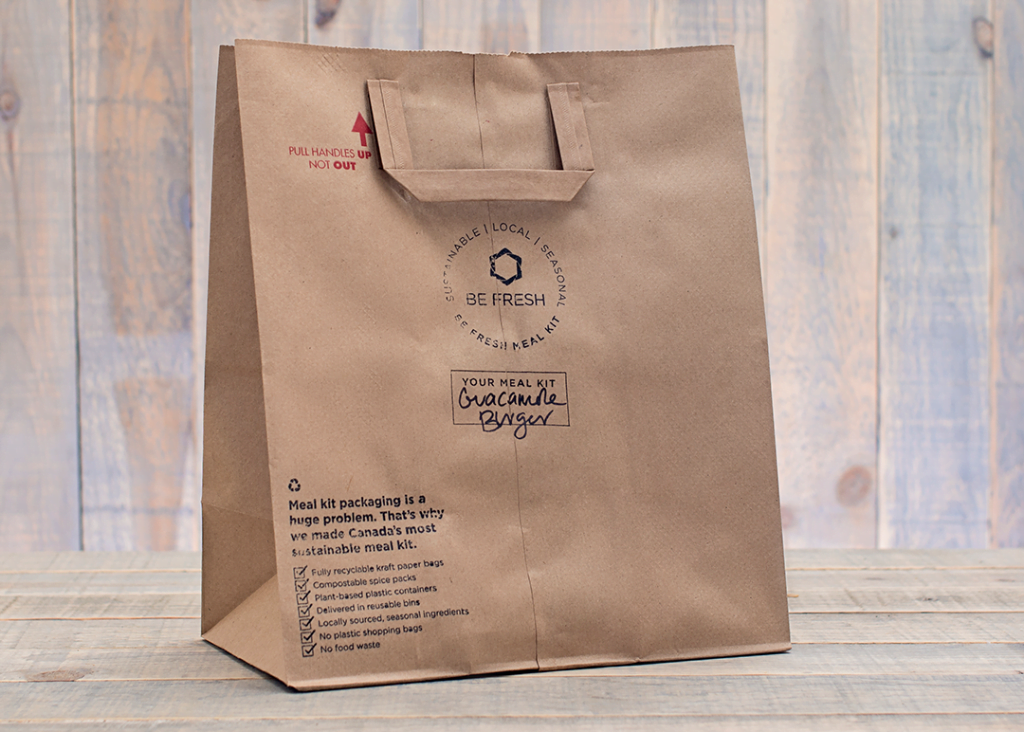 This was an awesome upgrade from what other meal kit companies do…but we wanted to do more!
New Innovation Update: Reusable Bags
As you know, we'll never settle for "good enough". Customers surveyed had a very high perception of sustainability with our paper bags, but with the Zero Waste pyramid we knew we could do better. Why?
Reusables are almost always the more sustainable option compared to recyclables. Generally speaking, it takes far more energy and resources to create a whole new "thing" (even made from recycled materials) compared to washing an existing "thing" and using it again.
So, after extensive research, testing, and surveying we landed on the perfect reusable meal kit bag. It's super durable (will last through more uses) and insulated, meaning food will stay fresh longer and will require fewer cooler packs. Finally, if we dare say so ourselves, it looks pretty darn spiffy! This is far from the cheapest way, but we know it's the right thing to do.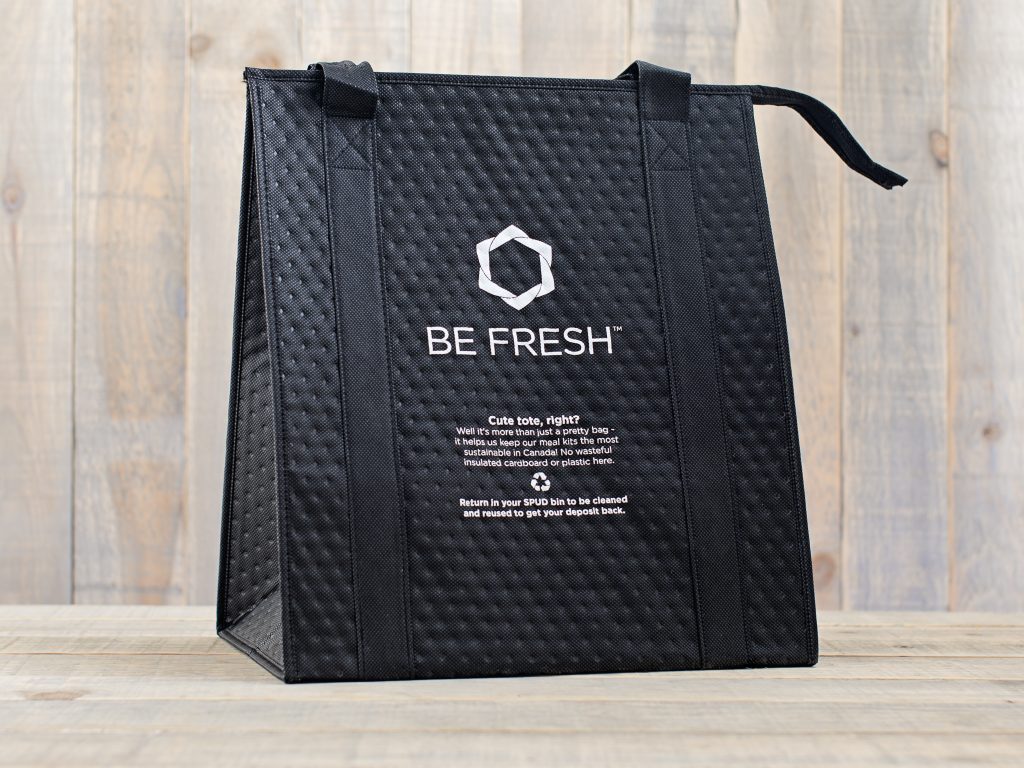 To maximize bag returns, we are charging a fully refundable $3 deposit on meal kit bags, just like we do on Avalon Milk bottles. We don't love the idea of deposits, but we've seen a massive increase in return rates after implementing them.
How You Can Help
Want to help us in our mission towards zero waste? Here's what you can do:
If you order a meal kit, put your meal kit bag back in your Spud bin for return!

Let us know you love reusables! Email our sustainability team at

sustainability@befresh.ca

if this is the type of initiative you want us to do more of.

Share your meal kit creation on social media! We'd love to see. And if you have any other low-waste suggestions, let us know.
This is one of many zero waste packaging projects, if you're curious check out our reusable produce bags project!