What are garlic scapes?
Garlic scapes are the long, curly shoots that emerge from the tops of garlic plants. They are essentially flowering stalks of garlic, and they grow above the ground, showcasing a unique and visually appealing shape. Garlic scapes are typically harvested in late spring or early summer, before the flowers open.
What do they taste like?
Garlic scapes have a milder taste compared to garlic bulbs, but they still retain a distinct garlic flavor. They are often described as a blend of garlic and scallions or chives. The taste is less sharp and more delicate, allowing for a variety of recipes. . They can be sautéed, stir-fried, grilled, roasted, or even eaten raw. The texture is crisp, similar to a green bean or asparagus, providing a pleasant crunch. Their unique flavor profile makes them a fantastic addition to salads, stir-fries, pasta dishes, soups, sauces, and more. They can also be used to create pesto, pickles, and spreads, adding a refreshing twist to familiar recipes.
Try: garlic scape pesto or garlic scape dressing
Print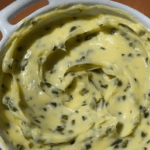 Garlic Scape Butter
---
Description
Take your garlic bread to the next level by using local garlic scapes in this simple garlic scape butter.
---
1/3

cup

fresh garlic scapes, washed and trimmed

1

cup

salted butter
2 tsp olive oil
---
Instructions
Finely chop the garlic scapes. In a small pan, heat 2 tsp olive oil and sauté the garlic scapes until tender. Set aside to cool.
In a bowl, combine the sautéed garlic scapes and softened butter. Use when cooking steak, seafood, vegetables, or on garlic bread.
Notes
*Swap vegan or dairy-free butter as needed