If there is one thing about being Canadian–I mean, aside from the Tim Hortons ritual, the Canadian tuxedo, the late-night obsession with poutine, and playing hockey on any surface–it's our go-to cocktail: the caesar. I think I speak for most of us when I say that the thought of enjoying a nice meal on the patio on a sunny day more often than not involves a caesar.
And whether you're an "extra-tabasco" person, an "easy-on-the-horseradish", a "don't-skip-on-the-olives", or just a simple "double-caesar-please", the one thing we can all agree on is that it's so easy to make caesars our own, and into something that anyone can enjoy.
Here are some really simple ways to up your caesar game by making it more exciting and customizable for you and your friends
Don't be afraid to put your own twist on this Canadian classic cocktail.
1. Respect the tradition.
But first things first. Don't mess with the fundamental building blocks of a caesar: clamato juice, Worcestershire sauce, hot sauce, and salt-and-pepper rim. I know we've all tried making this cocktail with some organic fresh tomato juice, and it just does not work. You need the clam juice and the infused flavours.
2. Make the juice your own.
Sticking to clamato juice doesn't mean that you can't add things to it. Try adding minced garlic; experiment with different hot sauces: sriracha, tabasco, jalapeno; and muddling fresh ingredients like mint, watermelon, and even cucumbers (trust me, it's good) to the mix.
3. Garnish well and top extravagantly.
We love the good ol' celery and the juicy slice of pickle. But now's not the time to be shy about what you can really accomplish with that topper. There's a bar in Vancouver that garnishes caesars with a whole burger on top! Sky's the limit. Aside from that, try decorating with a skewer of grilled chicken, tuna, or zucchini blocks; slices of crispy bacon; fresh fruits like pineapples and watermelons; cured meats; and even luxurious seafood like oysters (oyster shots, anyone?), crab legs, and shrimp.
4. Make caesar ice cubes.
This is a simple one that most people don't do. If you're someone who downs a caesar, that's understandable, but if you like to take your time and detest the watered-down, anti-climatic end to a delicious bevvy, make ice cubes out of your clamato juice.
5. Cook with caesar.
If after all your caesar endeavours, you find yourself left with still an abundance of clamato juice, don't fret. Did you know that the creator of the glorious cocktail was inspired by the dish spaghetti alla vongole, more simply known as spaghetti with clams. But it's true, you can cook with caesar. Make a seafood-based pasta sauce, stir up a nice pot of stew, or boil up a classic tomato-based clam chowder.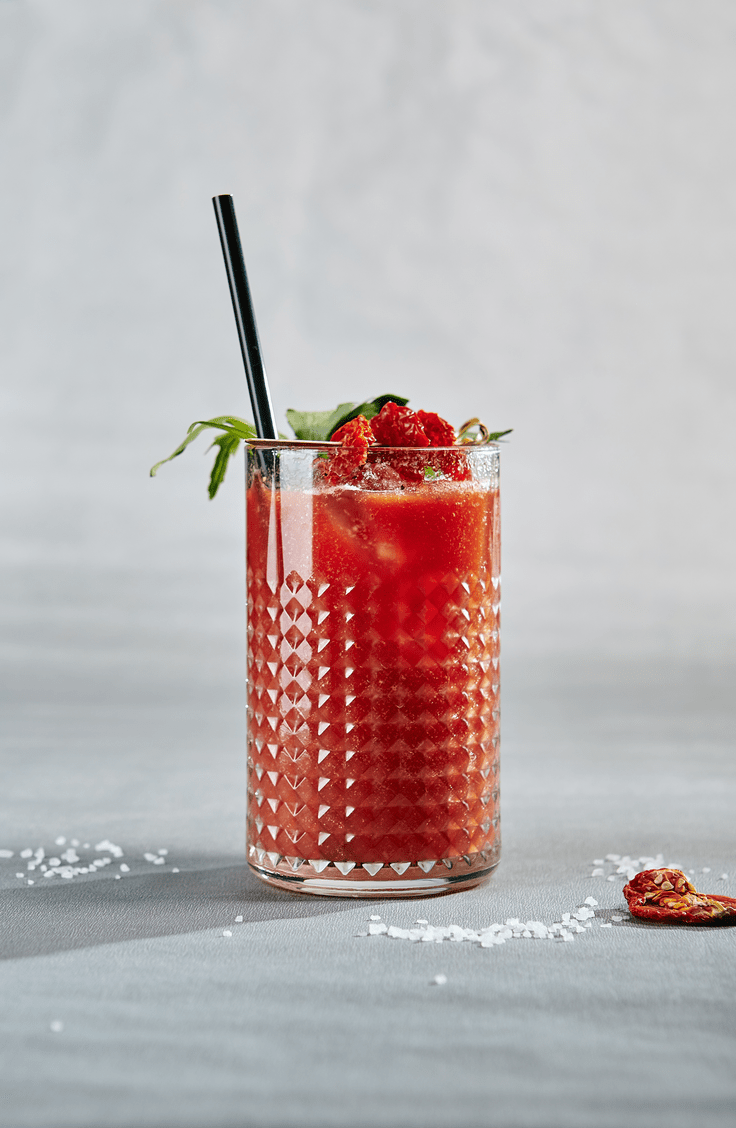 Did we miss any of your favourite ways to upgrade the national favourite? Share with us your favourite way of making a caesar!