Mashed potatoes are my favourite holiday side dish. They are so frequently underrated in what they add to a meal and are often viewed as just a food filler. But I cannot disagree more! Mashed potatoes are the starchy must have, full of creamy butter, and when perfectly piled on the plate, they are the best vessel for gravy. No holiday menu is complete without potatoes.   

The perfect potato for mashing is the yellow potato. They are slightly flat and thin-skinned, and have their own buttery flavour, meaning they can require less seasoning than other potatoes. They also have a lower starch content compared to russets, which makes this the best all-purpose potato. If you are not a fan of potatoes (I won't judge) this recipe is just as amazing with yams!   

While mashed potatoes can be made simply with butter and some cream, or elevated with bacon, apples or garlic. The best way is taking the classic ingredient, butter, and browning it!  Add this browned butter and sage mashed potatoes to your holiday menu this year.   
Print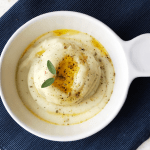 Browned Butter, Sage Mashed Potatoes
---
---
Instructions
Wash the potatoes and add them to a big pot of seasoned water. Bring the water to a boil and simmer on medium–high for about 15 to 20 minutes, or until a tender. While the potatoes are cooking, melt the butter in a small saucepan over medium-low heat. Add the sage leaves and let cook until leaves are crisp and the butter has turned to a brown colour, with a nutty smell.  Pour into a bowl and set aside.  Drain the potatoes and add the potatoes back into the hot pot, mash the potatoes with a potato masher, or if you like them whipped, use a hand mixer. Once all mashed, add the butter and sage mixture, sour cream, mix it together. Slowly add the whole milk, one tablespoon at a time, until you get the consistency you want. Season with salt and pepper, and top with a dollop of butter and sage. ENJOY!