Nestled in the Similkameen Valley is Blossom River Organics farm run by the Gill family. They are passionate, innovative organic farmers, whose delicious cherries can be found at Blush Lane Markets and in Spud bins across BC and Alberta this summer. We asked them some questions about being organic farmers and here's what they had to say:
How long have you been farming?
Our family has been farming for as long as we know. Our farming journey is deeply weaved with our experiences of migration. We come from a lineage of farmers from Punjab, India and have been farming in the Okanagan-Similkameen Valley for 3 generations. In 1980, our grandparents migrated with their family to the Fraser Valley. They spent their early years in Canada working in blueberry farms. Six years later, they moved to Oliver, BC where we farmed for 24 years. Currently, we live on our organic farm in Cawston, BC and have been farming here since 2008.
Farming is the thread that connects us to our ancestors, it is a part of who we are.


What's something unique about you and your farm?
We currently have four generations living and working together on the same farm in Cawston, BC. Our youngest family member is 1.5 years old and our oldest is 87 years old. This generational exchange of knowledge is so important to us. You can often find these two walking around the farm exploring together.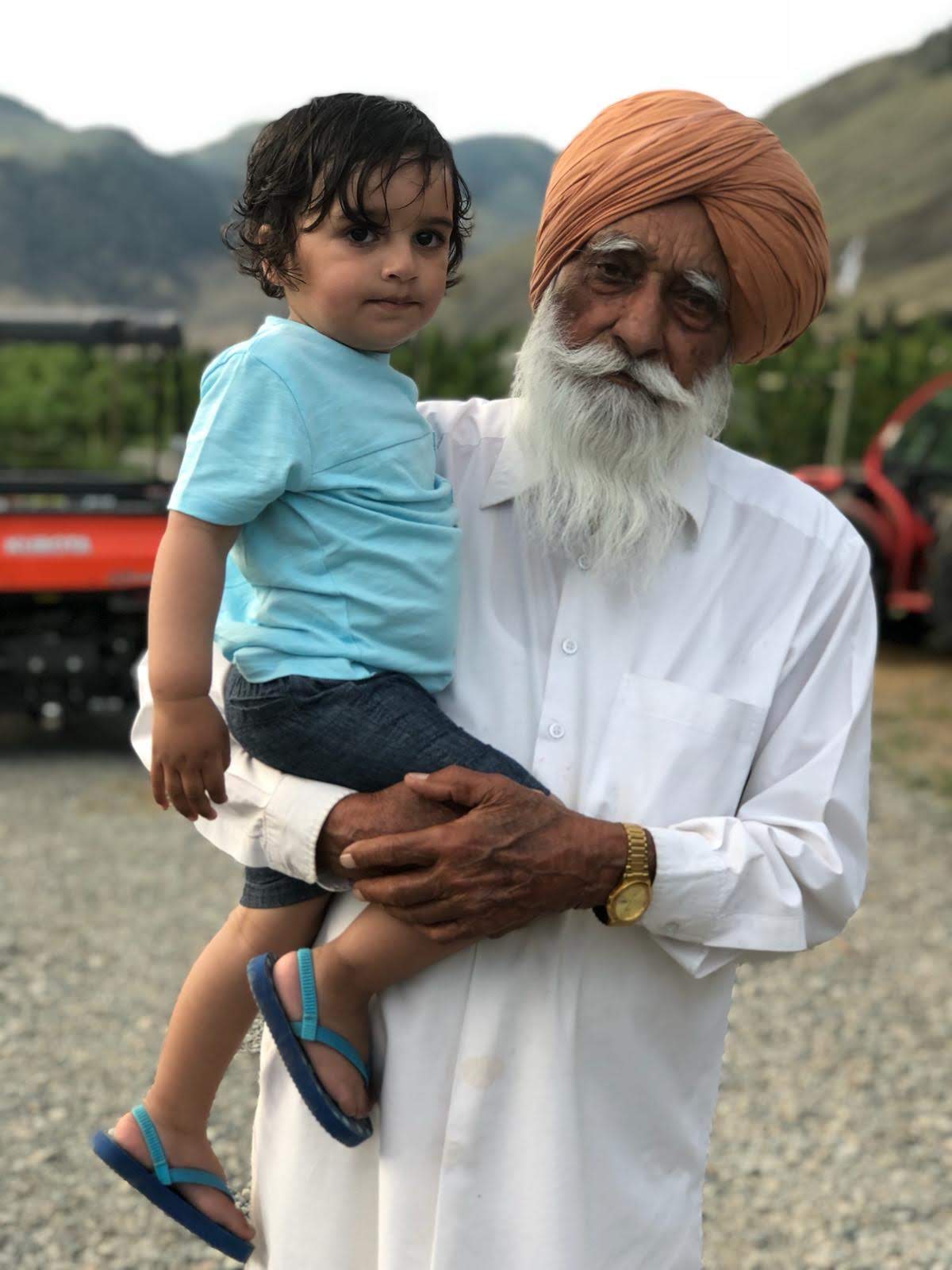 Farming is a tough job, what makes you passionate about being a farmer?
Farming is a tough job that is physically and emotionally draining. We are passionate about providing healthy options so our communities can live healthier lives. Over the years from generation to generation, we've learned to enjoy the process of farming. We watch our trees go through cycles, we nourish and nurture them, and appreciate whatever harvest we receive in any given year.



What does sustainability mean to you, and how do you practice it?
Sustainability to us means working in balance and harmony with the earth. As organic farmers we ensure that our farming practices have the least amount of impact on the earth and environment. We do not use harmful pesticides or chemicals on our farm. We also understand that water is a limited resource. To save water, we use a drip irrigation system throughout our farm. This method slowly drips water to the root zone of the trees and reduces the amount of water that is needed.

 Why should buying local produce matter to everyone?
Buying local produce is so critical to our local economies and the health of our communities. When we buy local, we support local families, support local economies, have access to fresher produce, side with sustainability and reduce our carbon footprint, and have the opportunity to foster community connectedness and healthy community spaces.

What is your favourite thing about being a farmer?

We love the process of watching our trees go through their seasonal cycles. We experience a great deal of joy when we see our fruit in local stores and across our country. For us, it is a reflection of the entire year of physical and emotional labour that we now get to share with our community.
If there was one thing you could share with our customers, what would it be and why?
Our fruit is always grown with you in mind. We believe that we all deserve to eat healthy foods in order to live healthier lives. 
Keep Up With Blossom River on Instagram and Facebook