It is hard to choose which treats are best for your pet. There are many factors involved; flavour, cost, quality ingredients, and what is best for your pet's diet.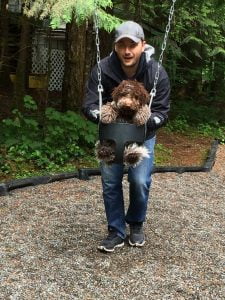 When Milo joined the Birch family (and the Spud family), he received a LOT of attention. He was a dog about town, stopping and sitting in front of perfect strangers as they would walk towards him in expectation of adoration. Along with all the attention, Milo was given many treats (who can resist that face?). We quickly learned the effects on his system when allowing different types of treats in his diet, and knew we had to be a bit more careful in what we allowed him to eat.
Fortunately, Milo recently discovered PureBites. They're his new favourite treat, and one that we are very happy to feed him.
PureBites are made from one ingredient: freeze-dried meat. Milo's favourite flavour right now is duck, which is made with 100% duck liver. Liver is a great source of protein, fat and vitamin A, which growing dogs like Milo need to stay healthy and strong. Liver is also a good source of copper, iron, niacin, phosphorus and zinc. It provides many B vitamins, omega-3 and omega-6 fatty acids, and essential amino acids dogs need. Because it's freeze-dried, pet owners can give their furry friends the benefit of this nutrient-rich meat. We use it in training Milo and we also sprinkle it on his food.
For many people, their pets are like their kids, and like kids, they all have different preferences and digestive systems. It can be tough to find the perfect snack for your four-legged family members, but when you do it's worth it!
Check out Spud's selection of PureBites here, and find your cat or dog's new favourite treat!