Raise A Glass to Alcohol-Free Drinks and Zero-Proof Cocktails
If you're at a party, or just want an end-of-day wind-down ritual, a glass of wine or spirit-based cocktail is the norm for some, but others are taking a less alcohol-fueled approach for all sorts of reasons. There are now many zero-proof beers, canned ready-to-pour mixed drinks, and zero-proof cocktails made with non-alcoholic spirit alternatives that are now on the market. Those who aren't imbibing can do so without the stigma of kid drinks, those heavily sweet mocktails topped with canned coloured cherries that used to be the only alternative. Now you can get all the flavour and complexity of a beer, wine, or cocktail without alcohol. *Please note that not all these products are available yet on Spud.
Non-Alcoholic Beers
Near beers, until recently, had been watery and the recipes resulted in a liquid not even recognizable as beer, but now craft alternatives are available and there are even choices when it comes to styles of beer. There's Partake, which comes in a Stout, Blonde, IPA and Pale Ale, and uses several types of hops in the assorted styles so they mimic the flavours of the real beers. Sober Carpenter is brewed in Ontario by two brothers whose passion drove them to craft a range of beers including a Session and Craft IPA, a Craft White and Red Beer and Blonde Ale. Gruvi is newer to the market with some limited releases such as the Non-Alcoholic Juicy IPA, Mocha Nitro Stout and Sour Weisse. Red Racer Street Legal IPA and Pilsner from Central City Brewing are also crowd favourites. The latest addition to Spud is Libra, in Pale Ale, Nazy IPA and Pilsner.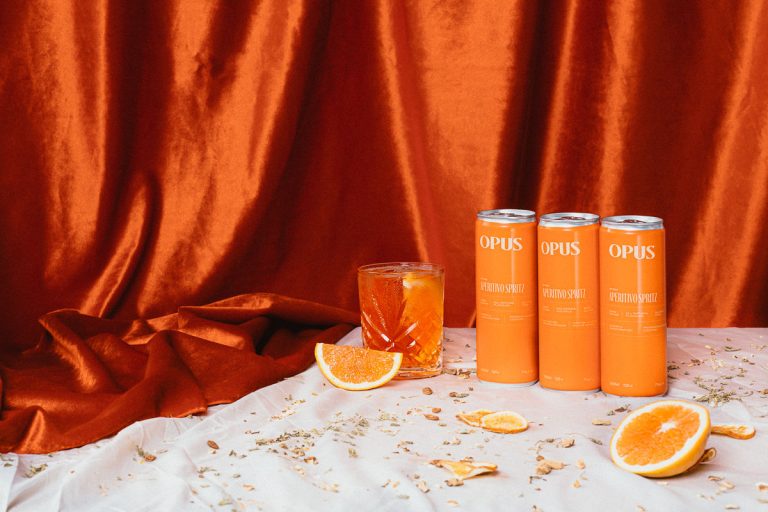 Canned "Mocktails"
There are many ready-to-drink cocktails now with alcohol, they hit the ground running, but it takes a little more to make one without the addition of alcohol that tastes like a serious drink. Clever Mocktails is a line of zero-proof cocktails that are infused with botanicals to create a Non-Alcoholic Mojito, Gin & Tonic, and Moscow Mule that are really something to look forward to at the end of the day. Edna's Non-Alcoholic Cocktail Company carefully crafts small-batch drinks with all-natural juices, shrubs, extracts & oils. It has a selection of sparkling cocktails including a Mojito, Paloma, Mule, and Collins. Many add alcohol to these drinks, using them as a mixer. Opus Cocktails have alcoholic and non-alcoholic zero-sugar beverages and are made with all-natural ingredients. Try their Gin & Tonic or Aperitivo Spritz. Mocktail Beverages are now stocked at Spud and come in a Vida Loca Mockarita, Scottish Lemonade Moscow Mule, and Sevilla Red Sangria, all without any artificial ingredients, preservatives of high fructose corn syrup.
Zero-Proof Spirits
Distilling botanicals create intense flavours that can be the base for many unique cocktails. Lumette has a non-alcoholic London Dry, Bright Light and Lumrum Alt-Spirits which are distilled on Vancouver Island from a bounty of botanicals giving the versatility of an aromatic spirit, without the alcohol. Seedlip, out of England, was one of the first available here and now comes in three distinct flavours, all made with ingredients such as orange and lemon peel, lemongrass, and ginger. Sobrii is another Canadian brand that allows you to enjoy great-tasting cocktails without the consequences of alcohol, they have a "tequila" and "gin".
Non-Alcoholic Wine
There's a limited selection of dealcoholized Wine in Canada and finding one that tastes great is difficult. We've tried Ariel which are one of the favourites, and Wine Proxies are layered blends of fruit, teas, spices, bitters, and more that come in many flavours, some we've appreciated more than other. 
At Spud we're adding to our zero-proof section, so make sure to check back to see what is new.