At Spud, when we're super excited about a new product we can't stop talking about it. Instead of just going on and on to our friends and family, we thought we'd share some of our favourite new products with you as well!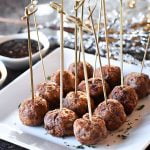 CRMR Kitchen – This food line was created by the chefs of the beautiful Canadian Rocky Mountain Resorts – offering the ability to recreate the CRMR dining experience at home. Made in small batches by the chefs of CRMR, this line features all natural and locally made meats as well as pre-made, oven-ready desserts and appetizers. All meats are hormone and antibiotic free and are sourced as locally as possible.
Canmore Pasta – Canmore Pasta Company is owned and operated by a busy mom with three kids who loves mountain life. The pasta is made right in Canmore, Alberta using 100% Canadian-grown Durum Semolina and Alberta eggs, is free of preservatives and stabilizers and is neither dried nor pasteurized. The smooth texture and tenderness of Canmore pasta comes from the simplicity of the ingredients that are used along with the boutique machines they use to create each variety.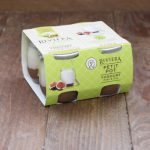 Riviera Petit Pot – This family run business operating out of Quebec produces incredibly smooth and rich yogurt, available in a range of delectable flavors (from French-style fresh cheese to rhubarb) and is produced using ingredients that are guaranteed to be 98% GMO-free. The small "petit pots" are glass jars which can be recycled or reused – the website features plenty of inventive ideas on how to reuse them.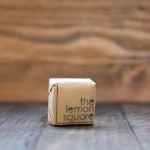 The Lemon Square – The Vancouver Spud office raved about these so much we just had to bring them in to see what all the fuss was about (the fuss was much deserved). These hand-made dessert squares are perfect: with a nice strong cup of coffee, to congratulate Joe on his new promotion or to bring along when it's your week to supply dessert for book club.
Fiasco (Spring collection!) – Based out of Calgary, this Dragon's Den deal striking company creates freshly made, hand-crafted gelato. While you can always find their delicious signature collections at Spud, we get pretty excited when the seasonal flavours hit our shelves. This Spring we'll be carrying the Lavender Vanilla Bean Gelato, Carrot Cake & Cream Cheese and the Strawberry Lemonade, all of which will be available for a limited time.
Bear And The Flower – In 2015, the husband and wife duo behind Bear and the Flower realized they missed farm life and started up their own pork farm near Balzac. They raise their pigs in a happy and humane manner, feeding them feed that is completely GMO, antibiotic, hormone and animal by-product free, which means you can trust the pork you're feeding your family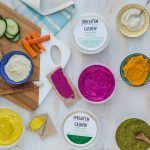 Spread'em Kitchen – We'd like to introduce to you your new insanely irresistible and versatile fridge staple: Spread'em Kitchen vegetable and cashew spreads. This Vancouver-based company has mastered the art of fermented nut spreads that can be used not only any time you'd use a cream cheese but also in so many more instances (think: stirred into pasta, in rice/quinoa bowls, as a veggie dip, dolloped into chili or soup, as a pizza base….).
Zak Organics Crunchy Peas – From our friendly neighbors just a hop, skip and a jump to the east. These crunchy peas are harvested on a fourth generation, family-run farm in Saskatchewan and are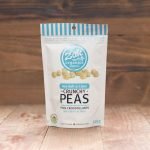 made with only the best organic ingredients – they make a perfect guilt-free 3:00 pm snack and satisfy just as much if not more than that snack you find yourself typically reaching for.
Pine haven Roasts – Most cattle are raised on grasses, and then finished on grain. Pine Haven's herd is fed ONLY grasses throughout the full life cycle — grasses that are chemical-free, nutrient-rich, low in toxins, and environmentally sustainable. This results in delicious tasting meat that you can trust and feel good about eating.

Brant Lake Wagyu Roasts – Wagyu is a Japanese beef cattle breed prized for their highly marbled meat and "melt in your mouth" texture. When cooked, marbling absorbs into the muscle giving the meat it's tenderness and flavour. Brant Lake Cattle started with Waygu cows in and bulls in 1993, and have expanded since then to Waygu/Angus crosses. As passionate cattle producers, they are committed to refining their Waygu cross herd to produce superior tasting, consistent, and healthy beef.