Happy Earth Day! Here at Spud, we believe our beautiful planet should be celebrated every day. The food industry is notorious for waste, both of the food and packaging variety. But we're here to change the world, one bite at a time!
We on the sustainability committee work tirelessly all year to develop, test, and improve the ways we make and deliver food as it relates to the environment. Working at Spud, we have the privilege to be dreamers, to try out crazy new ideas and technology that may or may not work. How? As a certified B corporation, we have an obligation not only to profit, but also to people and the environment.
What We're Doing – 5 Current Earth Friendly Spud Programs
We Have A Recycling Takeback Program
We take back and properly dispose of all the packaging that comes in Spud bins. Because of our unique reverse logistics (we pick up empty bins after you're done with them) we're able to collect tons (literally) of material that otherwise may not be disposed of properly. We even pay for items that some municipal programs won't take back, like soft plastic!
We Value Transportation Efficiency
Shopping online at Spud is like carpooling for your groceries. Instead of you driving to the store, our drivers take groceries for the whole neighbourhood for a ride. In 2017, we saved 261,569KG of CO2 from going into the atmosphere by efficiently routing deliveries in neighbourhoods in all our locations.
We Use Reusable Packaging
Bins (plastic or waxed cardboard)

We deliver groceries in sturdy, reusable plastic and cardboard bins that we wash after every use. Every bin we pack saves approximately 3 plastic bags from the landfill!
Freezer Jackets

Insulated and reusable, our freezer jackets keep your food (and the environment) cool! Instead of using throw-away insulation, we pick up freezer jackets, wash them, and reuse them.
We Have The Lowest Food Waste in Canada
We're extremely proud that our percentage of food waste is the lowest in the Canadian industry, at just 0.5%. For scale, this compares to the industry average of 5%! How do we do it?

We use it! Have you checked out our imperfect produce section? We sell not-so-pretty produce like oranges, carrots, and apples. In other stores, they would get tossed, but at Spud you can buy slightly imperfect (but still really good) produce at a discount. Other unsellable produce goes to in our commissary kitchen and is used in cold-pressed juices, smoothies, or other treats.
We just don't generate it!

Thanks to our online model, we don't need to fill huge displays of perfect looking food each day. Those displays are a huge source of food waste in traditional grocery stores. We take it one step further with our "Made Fresh For You" products – many products like local bread, salads, soups and other meals are made when customers order them, so we don't over-order these perishable, short shelf life items.

We donate it! We donate produce and grocery items to mission-driven organizations that help the hungry. We support QUEST Food Exchange in Vancouver, Bissell Centre & Food Bank in Edmonton, Leftovers in Calgary, and Rainbow Kitchen on Vancouver Island.
We Support Local
We count your food miles. We list the distance your food traveled from producer to our warehouse, helping you make educated choices about the impact of the things you buy.
We love to buy from local suppliers. Purchasing from nearby farms and producers helps us dramatically reduce transportation emissions: we currently have over 500 local vendors and buy from 48 local farms.
What's Next For Spud's Sustainability Team?
We're definitley not perfect, but we're always trying to get better! We get super excited about implenting new ways to improve sustainability. One thing that really guides us is the zero waste pyramid. We use the zero waste pyramid to inform our packaging innovations, so we prioritize reducing packaging entirely when possible.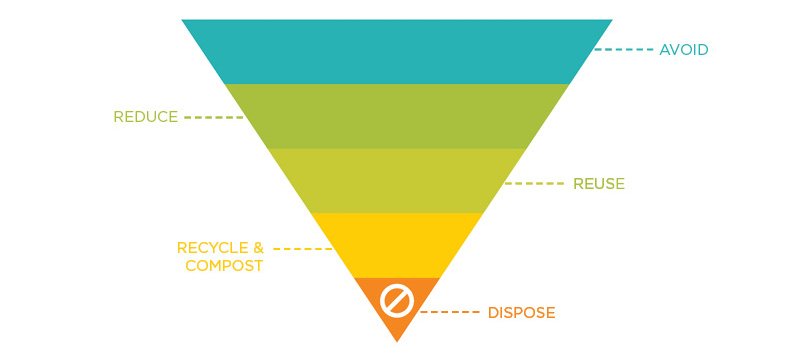 When packaging is needed, we are working hard to find reusable options that we can pickup from customers with their bins, clean, and reuse again. This saves massive amounts of energy and resources and reduces the waste created by single use packaging. Projects we're currently excited about are:
1. Reusable Produce Bags
This is something we know our customers are really passionate about. We are on stage 2 of our testing process with reusable produce bags, an exciting project we are first in the industry to try and implement at scale. So far, we've run two different produce items through our system and learned what items work and how to redesign our bags to be more durable and user friendly. Read more about that on our reusable produce bag blog page.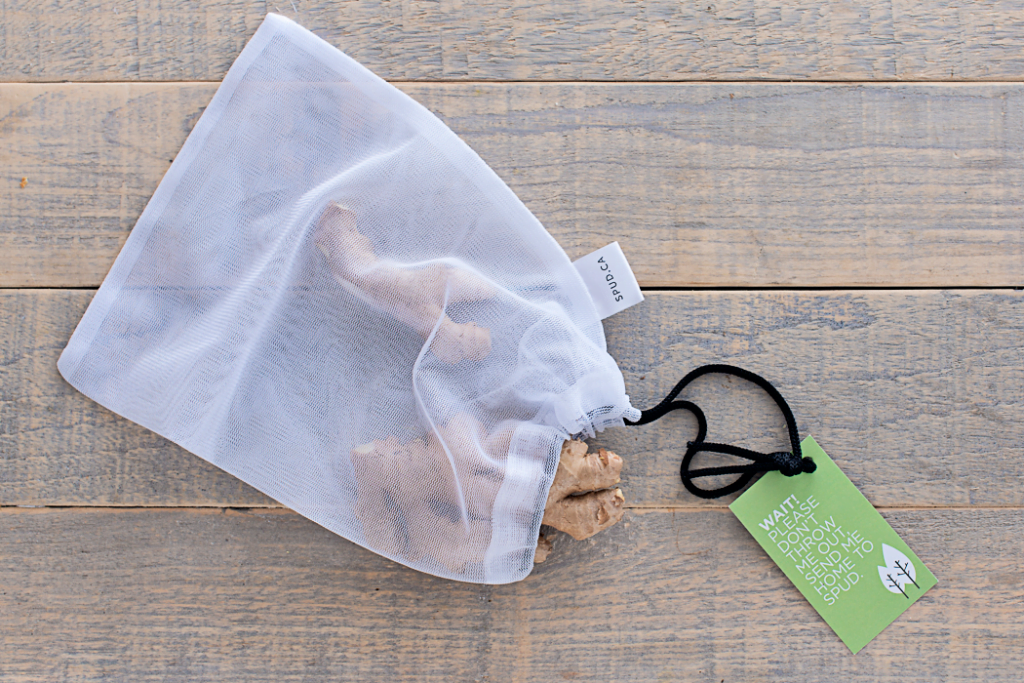 2. New Sustainable Warehouse
We're building a big shiny new warehouse that will serve as our main Vancouver distribution centre. Our building is designed to the highest environmental standard of energy use and efficiency. It will even feature a biodigester that will allow us to process/compost organic waste onsite, saving fuel transporting organics to commercial composting facilities and more.
We're constantly striving to be better every day – not just Earth Day – and we truly appreciate everyone who takes the time to reach out to us with thoughtful feedback. We love knowing that our customers are just as passionate about sustainability as we are. If you want to get in touch, email us! I'm at markt@spud.ca and Matt, our lead sustainability campaigner, is at mattl@spud.ca.