Much of the news right now is dominated by stress-inducing stories — and that's for good reason. The COVID-19 pandemic is serious and we need to take it seriously. That said, it's important to acknowledge the good things going on. The triumphs, moments of kindness and glimmers of hope happening in Calgary are motivating us to keep going and get through this.
At the end of each week, we'll be sharing five feel-good stories to help you ease into the weekend and keep your chin up. We hope it offers some comfort and inspiration to you.
Graduation Celebrations Find A Way Amidst Social Distancing Measures
Graduation from high school and convocation from university can be two of life's biggest milestones. Accordingly, a number of organizations are finding ways to mark the occasion while keeping public health an utmost priority.
Hip Image is a Calgary-based mobile photo booth operated out of a vintage VW van with an open-air photo booth configuration. It recently began offering a contactless experience including a partnership with Random Acts of Rainbows to bring free photoshoots to moms and their families over the Mother's Day weekend. Bookings for graduation photos are available now at hipimage.ca.
Alberta University of the Arts (AUArts) is taking its convocation digital with the help of alumni-founded creative firm Studio Dialog. The virtual celebration will take place on the date originally scheduled for a traditional, in-person convocation on May 20. One of the unique parts of graduating from AUArts is participating in the Illingworth Kerr Gallery's Grad Show. With campus and therefore the gallery closed, AUArts has partnered with digital marketing agency Evans Hunt to create an interactive website to host the show and a directory of profiles where viewers can see grads' entire portfolios. The new website won't be a stop-gap effort, either — it will be offered to future grads going forward as a supplemental way to promote their accomplishments accrued during their academic career. The online exhibition will go live at auartsgrad.ca on May 20 at 11:30 a.m.
Two executives with local events company E=MC² Events events are organizing a massive "drive-thru graduation" at Stampede Park at a to-be-determined date in June. There will be a stage, designated stops for photos and broadcasts of valedictorians speeches. The event will also be streamed live online for those who cannot attend. Visit drivethrugrad2020.com for more information.
Other graduation news includes the first graduating class of PLATO Testing's Indigenous-focused software testing curriculum, a Facebook group is organizing neighbourhood vehicle parades and billboards dedicated to grads have been erected by Calgary French & International School.
Golden Acre Home & Garden Centre and Wedding Professionals are Giving Away Weddings
Weddings can take a long time to plan, and are typically one of the most expensive celebrations you can throw. With social distancing measures put in place for COVID-19, many couples felt the stinging disappointment of having to reschedule their big day.
When the team at Golden Acre Home & Garden Centre was approached by a bride-to-be about having a small celebration on their property to take the place of her canceled ceremony, they very quickly said "yes." Ultimately, the bride moved on to a different opportunity but it left owner Colin Hayles and co. thinking that there must be other folks in the same boat.
That's why the company has partnered with Gingersnap Photography, Jaqueline Rae Weddings Events Interior and Roma Catering to offer completely free wedding services to four lucky couples this June. All companies are donating supplies and talent for groups that fall within gathering guidelines (currently 15 or fewer people) each Saturday of the month. Couples are asked to write in to info@goldenacre.ca with the subject line "June Brides" and share the story of their wedding cancelation by May 22 to be considered for one of the slots. All weddings comply with Alberta Health Services guidelines.
Golden Acre Home & Garden Centre is currently open for business and also offers online shopping.
The Calgary Public Library (CPL) has been on something of a roll during the global pandemic. Its digital services are in high demand, membership has spiked and the organization welcomed its first-ever Songwriter in Residence, Brandi Sydorik.
Calgarians have been asked not to return books while libraries are closed due to COVID-19 and are not subject to late fees for these outstanding loans. Now, the CPL is taking things to the next level with the announcement that it is abolishing late fines permanently as of July 1.
Library membership has been free since 2014, and now the only remaining financial hurdle to access has been eliminated. All existing fines will be forgiven and no new ones will accrue leading up to the official change on July 1.
CPL noted in a press release that this decision will follow in the footsteps of more than 100 major libraries across North America, and is about more than just accessibility — libraries studied for the decision saw a growth in users and circulation, plus the reduction of lost materials.
Calgarians do have the option to pay any existing fines as a way to donate in support of CPL's future. Until May 31, the Calgary Public Library Foundation and a group of loyal donors will match any late fees paid or standalone donations to the organization. CPL also has a fabulous web store with unique clothing, accessories and supplies for your home and office.
SunnyCider, Balzac Craft Brewing Company, Hard Knox Brewery and Field & Forge Brewing Co. have collaborated on a new charitable cider with help from partners Clarke Studio, Pearson's Berry Farm and Mountain View Printing.
Dubbed "The Heart of Community is Courage," the new cider is a semi-dry and light-bodied fruit cider with flavours of apple, cherry and vanilla. Proceeds from the sales — via sunnycider.ca — will go to The Alex Community Health Centre, a hub for vulnerable Calgarians that recently partnered on the city's only assisted self-isolation site for Calgarians facing homelessness.
Only 5,000 litres of the cider has been produced for sale. Act quickly if you want some.
Researchers at the University of Calgary (UCalgary) have developed a new testing method for SARS-CoV-2, the virus that causes COVID-19, that can be conducted quickly and without high-tech equipment or the reagents (substances or compounds added to a system to cause a chemical reaction) needed for standard tests.
This new method involves a process called LAMP (loop mediated amplification) which only requires a nose/throat swab or saliva and some small lab equipment to get a result. This means the tests can be made portable, be done inexpensively and hopefully, with further work, be converted into hand-held cartridge tests that would be easy to distribute and administer globally.
The study was led by scientists at UCalgary's Cumming School of Medicine, including study lead Dr. Dylan Pillai, first study author Dr. Abu Naser Mohon, co-author Dr. Byron Berenger and others. The team was also assisted by personnel from Illucidx Inc. and the University of Washington, as well as funders Canadian Institutes of Health Research, Genome Canada and the University of Calgary/Alberta Health Services Clinical Research Fund.
"We are in the early stages of unlocking the potential of this method," said Berenger in a media release. To that end, the researchers have published their findings on the free online health sciences server, medRxiv, and have submitted their work to a peer-reviewed journal for outside input. You can read the full report on MedRvix.
More Good Things That Have Happened Recently
The current global pandemic has put an immense strain on health care. In Calgary, there's new light at the end of the tunnel.
Alberta Health Services (AHS) announced on May 2 that construction is complete on a new field hospital on the grounds of the Peter Lougheed Centre. Built in just 21 days, the facility includes 67 beds and will be ready to go at 24 hours' notice should there be a surge in need for services within the existing facilities.
The completion of the 8,250-square-foot structure was made possible thanks to a $235,000-value donation by Sprung Structures of Alydersyde, Alta., as well as support from Falkbuilt Technologies, CANA Construction, Botting, Acutech Electric, WestJet and Stantec, and public bodies. The field hospital will be officially known as "a Sprung Pandemic Response facility." Sprung Structures is also working on similar facilities in Ontario and the United States.
In unrelated news, AHS is ready to increase its maximum COVID-19 testing capacity. By June, 16,000 tests can be completed per day compared to the previous max of 7,000. This is thanks to a $1.7 million donation by Calgary Health Trust and funds from AHS and the Government of Alberta totalling $4.5 million in investment.
albertahealthservices.ca; alberta.ca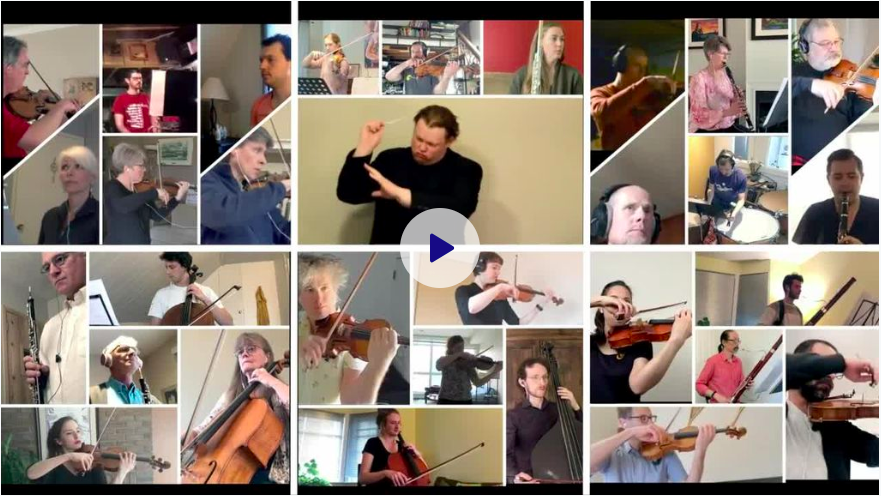 The Calgary Philharmonic Orchestra (CPO) has found a unique opportunity to present a work that was intended for the closing classical concert of its 2019-20 season. Music director Rune Bergmann will conduct orchestra members remotely by video conference for the next entry in Tom Jackson's variety video series, Almighty Voices.
Almighty Voices was launched on April 5 and is hosted by Jackson, an actor, musician, philanthropist and member of the Order of Canada. The 12-part series features talent from across the country performing in support of the Unison Benevolent Fund (UBF), a non-profit registered charity providing counseling and emergency relief services to the Canadian music community. Past and upcoming guests include the likes of Barney Bentall, Measha Bruggergosman, Sarah Slean and Whitehorse, among numerous others.
This Sunday, May 10, will mark the sixth entry in the series and will feature the Calgary Philharmonic Orchestra performing the first movement of Beethoven's fifth symphony, "Allegro con brio" — some of the composer's best-known work. The CPO will also join Jackson for a performance of his song "Blue Water" from the album Ballads Not Bullets.
The videos are free to watch but are produced in the hope they will inspire you to donate to the UBF. The charity is a participant in the Spotify COVID-19 Music Relief Project, meaning all donations are matched by the streaming giant. Visit this page to donate or text "VOICES" to 45678 to donate $10.
Charitable dining initiative Feeding YYC is back in action for another round of fundraising. From May 4 to 17, orders placed with its partner restaurants directs food to hungry Calgarians in need — something it's dubbed "Buy One Give One."
Current partner restaurants include The Embarcadero, Foreign Concept, Market, Maruju Sushi, Murrieta's Bar & Grill, Pure Kitchen & Bar and Roy's Korean Kitchen. Each is offering a special multi-course dinner at competitive prices — Foreign Concept's three-course meal is $35 per person and Roy's Korean Kitchen (a pop-up by the Anju chef) offers a family-style spread that feeds four for $175.
This run follows Feeding YYC's initial goal to feed 50 families over Easter weekend. It exceeded that goal and fed 275 people within 66 different families. Beyond ordering with restaurants, you can contribute to Feeding YYC's current goal of feeding 200 families this month by donating directly to a GoFundMe campaign. Any excess in funding will be redistributed to Brown Bagging for Calgary's Kids (BB4CK) and Made By Momma.
Feeding YYC is the brainchild of local entrepreneur Eric Yeung and is supported by numerous partners. Families in need are identified by BB4CK, Inn From The Cold, Centre for Newcomers, the Ronald McDonald House Calgary Chapter and through a tip line.
Congratulations are in order for Bridgeland Distillery. The company recently nabbed a bronze-medal win in the "unaged whiskey" category of the 2020 San Francisco World Spirits Competition.
The winning spirit is called Single Malt Spirit, Mash #1 and is made from barley from Red Shed Malting grown on Hamill Farms in Central Alberta. "Making a single malt spirit out of a single type of malted barley means nothing can be hidden and all the flavours from the malt will be on full display," said Matt Hamill of Red Shed Malting in a release.
Whisky is a rigidly controlled designation across the globe, and in Canada that means the spirit "must have spent at least three years aging in a wooden barrel no larger than 700 litres in size," according to the Kensington Wine Market blog. Hence the name "Single Malt Spirit, Mash #1" and the corresponding win in the unaged category.
The distillery, which opened just last year, has reserved much of the spirit to age with plans to release the matured version as its own standalone product complete with whisky status in the future. You can be among the first to try it by joining the distillery's Founders' Club. The current version is available in 375-millilitre bottles at the distillery (open for pickup and delivery) and select retailers.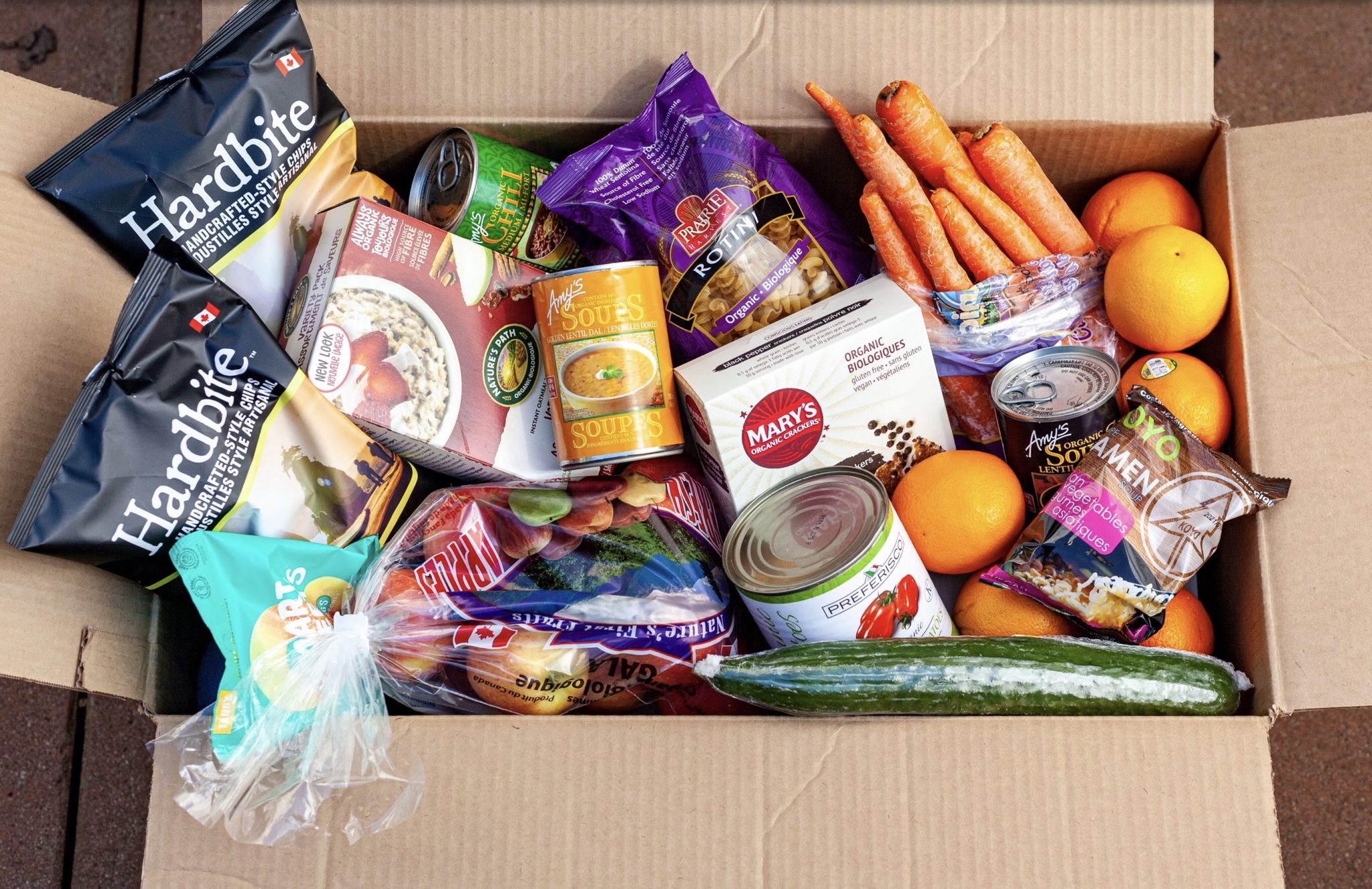 Grocery delivery service Spud has seen a significant spike in demand since social-distancing measures were put in place due to COVID-19, but that hasn't stopped the company from finding time to give back.
Spud's Stay Home initiative is divided up into three streams: a donation directory called "Front Line Hero Organizations," an option to buy grocery boxes for a loved one or friend and finally a collection of boxes that direct partial proceeds to getting groceries to frontline workers and at-risk community members at cost. You can also submit an organization for the donation directory if you know of one in need. Box delivery is currently available in Calgary and Vancouver.
That's not the only good news surrounding Spud of late. Its increase in demand has led to the company adding 100 new delivery trucks, creating new jobs in the process. As well, founder Peter van Stolk's venture, FoodX, received a shoutout from Prime Minister Justin Trudeau during a recent briefing on companies chosen for innovation supercluster projects. FoodX is an "eGrocery" software platform which is used by Spud.
Calgary Area Festivals Go On(line)
Last week was a tough one in many ways, and seeing both the 2020 Calgary Stampede and Calgary Folk Music Festival get canceled in the span of an hour hit hard for all of us looking forward to summer fun in the city. But a few Calgary area festivals are finding ways to move forward in different iterations than they have in the past.
The Calgary Queer Arts Society dropped the 2020 Fairy Tales Queer Film Festival lineup last week with an announcement that all screenings will take place online through Xerb TV. Individual tickets cost $10, three-packs are $25 and a festival pass runs $90 for access to a total of 38 films. Notably, the lineup features the local short The Key of T, which chronicles a research-and-performance project of the same name conducted at the University of Calgary that we covered back in September. The Key of T screens on May 19 at 7 p.m.
Fairy Tales isn't alone in its ambition to move to the digital space. The Okotoks Film Festival (OFF!) announced its online program on Thursday, which will run on its website from June 11 to 14. The festival broke its record for features this year with a total of five screening throughout the five days. Notable selections include children's film Jim Button and Luke the Engine Driver (based on a book written by the author of The Neverending Story) and the Canadian film Rustic Oracle, which deals with the topic of missing and murdered Indigenous women and girls.
Live music is going online, too. JazzYYC opened its International Jazz Days Virtual Festival yesterday and will continue to offer live-streamed concert programming through May 27. Information on the festival schedule can be found here. Finally, yesterday saw an announcement from Calgary Pride on a multi-part plan to move celebrations online, or possibly disperse them among small groups of individuals. Organizers intend to follow all public health guidelines and have canceled the massive annual parade but will explore options closer to the festival's dates, August 28 to September 6. The full announcement is here.
The Women in Need Society (WINS) received two major donations this week. Its five revenue-generating thrift stores in Calgary are closed due to COVID-19 while demand for support has risen 70 per cent in that time. Thankfully, two major players have stepped up to offer assistance.
TJX Canada, the Canadian division of multinational off-price retail conglomerate TJX Companies, recently donated 50 pallets of food to WINS from its Calgary area HomeSense, Winners and Marshalls stores. The generosity of this donation was so much that WINS is redistributing half to the Calgary Food Bank and divvying up the remainder between itself and partner agencies The Mustard Seed and the Calgary Drop-In & Rehab Centre. TJX Canada is an ongoing supporter of WINS and has helped in the past to offer women job training and employment.
The other major contribution comes from IKEA by way of Furniture Link, the sponsor of the Furniture Bank Network. Thanks to Furniture Link's efforts towards building the partnership, hundreds of furniture kits are being distributed to communities served by nine different Canadian organizations, including WINS.
WINS continues to operate its Family Resource Centres and Free Goods Referral Program remotely and is seeking financial donations to help with this. You can donate here.
The Calgary Police Foundation (CPF) was forced to push back its Chief Youth Courage Awards Gala from April 29 to November 22, but that hasn't stopped it from celebrating remarkable young people in the city.
April 29 was dedicated as a "Virtual Day of Celebration" for the chosen youth, all of whom have shown courage and leadership in their lives and in dealings with Calgary Police Foundation youth programs. The honourees, who range in age from 6 to 18 years old, were feted across CPF's social media channels. Special programming included a closing performance by country music artist George Canyon, and the naming of Dick Haskayne as recipient of the Philanthropic Leader Award.
Honourees are outlined in brief here, just click their names to read CPF's blog entries on what makes each youth so special. The Integrated School Support Program (ISSP) award goes to Giovanni Friestad; the Multi Agency School Support Team (MASST) award goes to Mamdouh Baballa; the Youth At Risk Development Program (YARD) award goes to Scott Horsman; the Calgary Police Cadet Corps Program award goes to Mateo Smith; the Power Play Program award goes to Vesko Kicovic; and the YouthLink Calgary Police Interpretive Centre award goes to Nathan Asimiakwini.
Richmond-based drugstore chain London Drugs has opened applications for a new initiative it calls "Local Central." After non-essential businesses were mandated to close, woes have swelled for independent operators stuck with rent and no way to earn it through the in-person sales they depend upon. London Drugs, itself an essential service because it sells food and medicine, has responded by offering retail space for effected businesses.
Shopkeepers in British Columbia, Alberta, Saskatchewan and Manitoba can fill out a simple application form to be considered for inclusion in Local Central. Its rules and regulations state that eligible applicants must have a valid Canadian business license or permit, be based in one of the four provinces mentioned above and offer physical items (no services). Businesses deemed essential are not eligible, nor are any products that require refrigeration or freezing. Alcohol, cannabis and tobacco products are also prohibited.
Chosen products will be displayed in the highly visible central aisles of London Drugs locations.