Olive Oil Poached Salmon
4

4 oz salmon fillets

50 grams

raw peeled garlic

10 grams

fresh Cilantro

100 grams

raw red onion (1 inch dice)
Roasted Onion and Cilantro Salsa   
100

gr raw red onion, diced

100

gr roasted onion (from poaching salmon), minced

3 tbsp

cilantro, chopped

1

lime, zest and juice

2 tbsp

Be Fresh Olive Oil

sea salt, to taste
---
Instructions
Olive Oil Poached Salmon
Pull the salmon from the fridge and allow to sit at room temperature for 15 to 20 minutes.

Heat the oven to 225F.

In a shallow pan, place the garlic, cilantro and garlic cloves so it covers the bottom of the pan.

Place the salmon filet over top of the aromatics with some space in between each piece.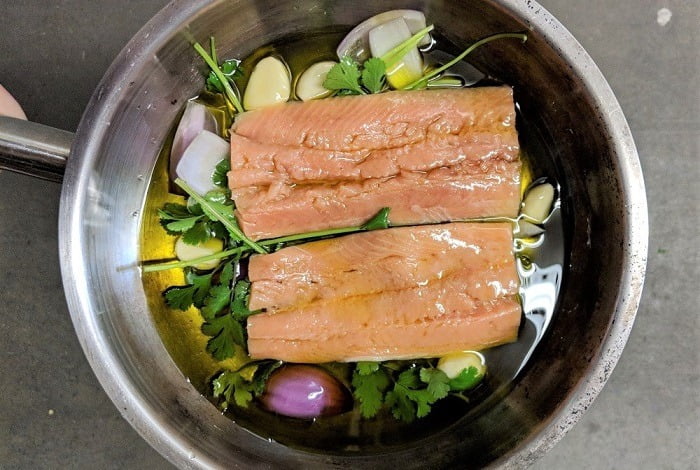 Pour the olive oil over top of the fish, ensure the fish is close to being covered. Move the aromatics around if need be.

Place the pan into the oven and cook for approximately 45 minutes to an hour. Depending on how you like your salmon cooked and how thick the salmon is.

Allow to cool in the oil for 15 minutes.

Remove the fish and place onto a cooling rack to let the excess oil drain off.
*If you're making the cauliflower tortillas, put them in the oven after the salmon
Roasted Onion and Cilantro Salsa   
Combine all the ingredients in a bowl. The salsa is best if left to sit for 2 hours before serving. 
Assemble your tacos – we like to use Be Fresh Chili Lime Aquafaba Mayo, avocados and fresh jalapeno!!