Lots of new offerings on the alphabetical list. If you don't see your favourite resto listed below, call them to see if they are doing take-out. Check out the news about bakeries, meat shops, wine shops and grocery stores too.
Keep in mind it's not business as usual—perhaps the whole menu isn't available, or, take-out/pick-up is restricted to a certain time frame or day.
One more thing, please don't use a gift card to pay. These small businesses need take-out activity to try to survive. Save the gc for happier times.

Stay safe, stay healthy and stay two meters apart.
X1X has a take-out menu for curb-side pick-up at both the St Albert (780-569-1819) and Terwillegar locations (780-395-1119). Terwillegar is also offering limited delivery in the Terwilligar, Magrath and Windermere neighbourhoods, as well as diy cocktail kits.
A Cappella Catering offers take and bake specials such as lasagna with complementary delivery. For people still at work they have developed safe serve-style menus that provide individual portions for groups, so no worries about social distancing—sandwiches, boxed breakfasts and lunches, chili, lasagna and sides, call 780-454-2642 or visit: acappellacatering.com.
Ace Coffee is offering pick-up or delivery of coffee and donuts Monday-Friday, call 780-244-0223 or email info@acecoffeeroasters.com.
Blue Chair has closed and hopes to see us "when the madness has passed and our world is safe again," Harold Wollin, owner.
The Blue Plate Diner offers pick-up orders order.ypdine.ca or delivery via ubereats.
Cavern is open for retail and to-go orders, Tuesday-Saturday from 11am-5pm. Send an email to info@thecavern.ca or call 780-455-1336 for all cheese emergencies.
Corso at Home is offering arancini, pasta kits, salads (such as Bar Bricco's Sicilian fennel salad) frozen sauces and wine via https://corso32group.com/corso-at-home/. New menus on Saturday, place your order by Monday noon for Thursday, Friday and Saturday pick-up. Their amazing wine list is available too.
Culina To Go is offering free delivery on Culina catering items, call 780-250-7044, Tuesday-Saturday, 10-6pm.
Filistix is offering delivery or, pick-up at the restaurant, lunch 11-2pm; and dinner from 5pm. Email FiilistixDelivers@gmail.com to order. The SUB location is open 11-2 Monday-Friday for now, call 780-716-4708 to order.
Fox Burger is take-out only, Monday-Thursday 4-9pm; Friday 4-10pm; and Saturday, noon-10pm, call 780-250-0369.
Get Cooking offers items such as lasagne or soup available at their location on the MacEwan campus as well as at Popowich Meat Company and Irvings Farm Fresh (Bountiful Market). Call 780-566-2106 for pre-orders.
Kind Ice Cream is open for pick-up, call 587-759-0080 and online delivery. Check kindicecream.ca for the schedule and other info.
Little Bear Gelato is doing free delivery every Thursday, min $30 order, order online at littlebeargelato.com.
Love Pizza offers something new; ready-bake pizzas that keep a day or two in the fridge or can be frozen. Order today lovepizza.ca and expect delivery tomorrow (minimum $40 for free delivery, Monday-Saturday). Their two locations are open for delivery and curbside pick-up. Their support pizzas (pizzas to frontline workers, delivered with a hand-written card) are on hold for now, but they hope to resume sales soon. It is an amazing community campaign—more than 2300 support pizzas were purchased, overwhelming their ability to get them all out the door. "We had donations for the support pizzas all the way from BC to Ontario," says Braede Harris, co-owner.
The Marc has prepared three menu options for pick-up between 4:30-7:30pm this Friday and Saturday. Place an order between noon-4pm with a credit card, email patrick@themarc.ca. Three-course menus; crab cake and choucroute; tomato salad with house-made ricotta and hangar steak, both $40, and a vegetarian option ($30) of the tomato salad and mushrooms on toast, all with chocolate cake for dessert. There are also menus for Wednesday and Thursday next week. Visit themarc.ca for all the deets. Check back weekly for new menus.
Northern Chicken offers pick-up, call 780-756-2239 for frozen biscuits or wings, and, of course, fried chicken.
Prairie Noodle offers take-out at 10 per cent off, call 780-705-1777 and delivery via Ubereats.
RGE RD offers a new take-out menu every Monday on rgerd.ca and social media. Order by phone 780-447-4577 from noon Monday and pick-up curbside after 3pm. Each weekly menu features items like pyrohy, pot pies, empanadas and charcuterie. Family dinner is available on the weekends. They also have something called the stragglers which they say are things they prepared but forgot to put on the menu. You can also add wine to your order. Yahoo!
Ragazzi is offering pick-up and immediate area delivery and have limited their hours. Call to order, 780-414-0500.
Rosso Pizza is offering pick-up on Monday, Wednesday and Fridays from 5-8pm from a select menu of 10 pizzas (including their fan faves funghi misti, rosso and margarita.) Check out the menu pizzeriarosso109.com and call 780-433-5382 with your credit card to order. Bottled beer and wine, available, 25 per cent off the regular menu prices.
Rostizado and Tres Carnales offer delivery via ubereats.
Sabor is open for pick-up orders only, 4-7pm daily. Call 780-757-1114 after 2pm to place the order. Missing the piri-piri prawns? They are available along with a somm's choice wine, $20. This week's menu: sabor.ca.
Sepps offers pizza-to-go or pick-up. Order online: seppspizza.com
Smokey Bear is offering weekend pick-up on featured family meals, an a la carte menu and a few larder items, minimum $50 order. Explore the take-out menu smokeybearyeg.com. The pork chop was delicious and it's easy to order and pick-up. Call 587-759-0209 before 3pm on the day of.
Wishbone offers take out Tuesday-Saturday 4-9pm  eatwishbone.ca, or call 780-757-6758 to order. Three Boars offers take-out and there is a Detroit Deep Dish pizza in the works. Farrow offers farrow2go (with the BLTime Being subbing in for the Grick sandwich as they found it didn't travel well); call Richie, 780-757-0132; Garneau, 780-757-5170 and 124 Street, 780-249-0085.
Woodshed is offering burgers-to-go and also take and bake pizza. It's a collaborative effort with their neighbours Meuwly's and Northern Chicken, thewoodshedyeg.com/. Ordered burgers for pick-up the other day, seamless online experience, and delicious. Workshop Eatery has become a south side burger joint with a Woodshed Burgers takeover, call 780-757-4100.
Why Not Café offers a takeout food and cocktail menu this week along with fresh and frozen meal prep and large order takeout. Call 780-297-5757 for more info or to order.
bakeries
Artistic Bakery has markers for social distancing and is closing at 3pm Tuesday-Saturday. Those delicious German pretzels are available daily. Enjoy with Meuwly's mustard.
Bon Jour Boulangerie is open Wednesday-Saturday, restricting entry to a few folks at a time for their toothsome sourdoughs.
Bon Ton Bakery is offering pre-order and curbside pickup. Call 780-489-7717.
Brio Bakery in the Oliver Exchange is open Wednesday-Saturday, 9-3pm.
Buns and Roses Organic Wholegrain Bakery is open for gluten-free baking and bread.
Duchess Bake Shop is now offering delivery free with $25+ order. Check their website duchessbakeshop.com for all the deets. Café Linnea meat pies are available there too.
Food in the Nud is open, with a limit of one customer at a time in the shop. Call ahead and they will bring your order to your car, 780-540-3663. Try their delicious cookies.
La Boule is open daily for now and are happy to take pre-orders. Call 780-760-2253. They may move to pick-up only at some point.
meat shops
Acme Meats is open Tuesday-Friday, 10am-5pm; Saturday 9:30am-4pm. Yaay! Remember they have goodies in the freezer such as Gourmai Dumplings too.
Four Whistle Farm is offering delivery, call 780-499-2726 for details.
Meuwly's is open on 124 Street (they have closed the farmers' markets booths for now) and offer delivery of grocery boxes via their website: meuwlys.com. Talk about making shopping easy: choose from veggies and essentials; spice lover's; two dinners for two; charcuterie night; their amazing smoked honey ham and an Easter weekend box. There is no lunch available; they are open Wednesday-Saturday, noon-5pm. Email info@meuwlys.com for special requests.
Popowich Meat Company is open and offers curbside pick-up, email mike@popowichmeatcompany.ca or call 587-462-8926). The buffalo chicken sausage is delightful; it's hard to get chicken sausage right (it's a texture thing) they nailed it. They also stock various sauces, tortilla chips and other locally-made delights.
wine shops
After the intial "gaaahh, we'll be locked up for days, must buy alcohol!" response from their customers, things have calmed down and stores are offering a variety of pick-up and delivery scenarios.
Aligra is open and offering delivery, call 780-483-1083 or 780 884-6486, aligrawineandspirits.com.
Bin 104 is restricting traffic inside and offering curbside pick-up and delivery, 780-436-8850. The $10 delivery fee is donated directly to the Edmonton Food Bank. Check here for all the details: http://bin104.com/covid-19-protocol.
Color de Vino is closed to foot traffic but is offering curbside pick-up and free delivery with a $50 order. Visit colordevino.ca or call 780-439-9069.
Devine Wines, open until 6pm everyday (Friday 7pm), is restricting traffic to control the numbers of shoppers. They offer curbside as well a free delivery with a minimum purchase of one case, or a $5 fee within downtown for smaller purchases, 780-421-9463.
Hicks Fine Wine is open, disinfecting after every customer, offering gloves and curb-side service, 780-569-5000. Delivery services are in the works.
Sherbrooke Liquor is closed to foot traffic but is offering online ordering and curb-side pick-up. Visit sherbrookeliquor.com for all the deets. Delivery soon.
grocery stores
Blush Lane is open and also offers delivery via Spud; spud.ca.
The Farmers' Markets (Bountiful, Downtown Edmonton and Old Strathcona) are open for now, restricting numbers inside and upping cleaning protocols. Last Saturday afternoon, the Downtown Market had no line-ups and felt spacious, it was easy to stay three metres apart.
Local businesses owners Aga Wajda-Plytta, Nina Karpoff and Candyce Morris have collaborated on a shopping portal called Good Goods Co. featuring a hyper-local focus and a single shipping fee. Check it out goodgoodsco.ca.
The Italian Centre Shops are open and offering delivery call 780-424-4869, press1, or email groceries@italiancentre.ca, $75 minimum order. Curb side pick-up too as well as a seniors' hour first thing in the am.
Kinnikinnick is open and you can order from their website for gluten free staples, kinnikinnick.com.
Sunterra is offering a 25 per cent discount on all Sunterra in-house food products (ready-made meals, soups, salads, deli items, fresh bread, baking and desserts) purchased in-store to all Alberta Health Service workers. Alberta health care workers will be required to show their AHS ID cards at registers in-store to receive the discount. Visit https://www.sunterramarket.com/ for details.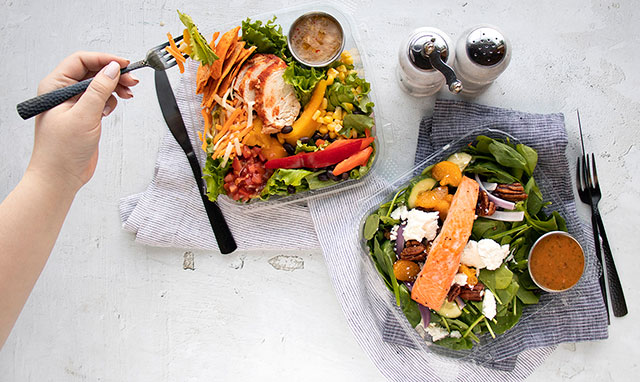 See original article here: https://publ.campaign-view.com/ua/viewinbrowser?od=27218d28c96aa859eacb18dcd770ee0621185630859ca1fd0&rd=179fe664c2d044a2&sd=179fe664c2d03d4f&n=11699e4c317eeca&mrd=179fe664c2d03d3d&m=1