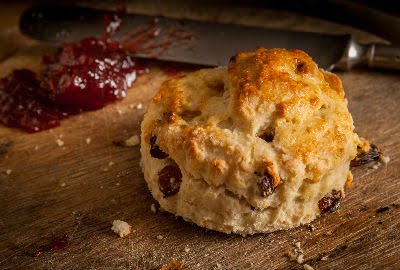 Cranberry Sauce Skillet Scones
Cranberry sauce is, unfortunately, the condiment that often get stuffed back into the fridge, and stays there for months and months.. This year, use it up before it has a chance to get comfy among the other sauces by throwing it into a batch of scones. The tartness of the cranberry sauce is the perfect complement to the buttery goodness of these baked treats.
Print Recipe
Instructions
Grease a 9 or 10 inch cast iron skillet. Preheat oven to 400°F (200°C).

Combine all-purpose flour, baking powder, salt, sugar, and butter.

Add milk, and continue to combine until dough comes together.

Transfer dough to a large bowl. Gently fold in cranberry sauce.

Transfer to prepared cast iron skillet. Score dough about ½ inch deep into 8 wedges.

Bake in the oven for 35 minutes or until golden brown.