Diwali is a festival of lights celebrated by Hindus, Jain's, and Sikhs, that marks the start of the Hindu New Year! It lasts 5 days long, however, the date changes every year based on the lunar calendar. Diwali is celebrated with friends and family often enjoyed with feasts and sweets!
Diwali is important to Spud and many of our team members! We asked a few of our team members to share their favourite Diwali recipes to make to celebrate each year!
Coconut Burfi by Gagan – People Team Assistant at Spud
Coconut Burfi is a traditional Indian Sweet made with coconut, sugar, milk, cardamom, and sometimes nuts. It's a famous sweet made especially for traditional festivals such as Diwali, Raksha Bandhan, Holi. Families gift Burfi to their relatives to show their love!
Print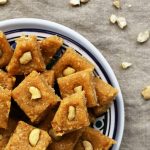 Coconut Burfi
---
1 cup

Grated Fresh Coconut (250ml)

3/4 cup

Sugar

1/4 tsp

Cardamom Powder

1/2 cup

Water

1 tbsp

Cashews broken (optional)
---
Instructions
First, grease a tray with ghee and set it aside.

Break open your coconut and use a grater to grate it into fine pieces. The main trick to get a nice and wonderful white coconut burfi is to grate only half of the coconut. Do not grate till the end as we start getting slightly brown color gratings if we keep on the grate. Instead, use 2 coconuts and grate them till halfway to get pure white coconut gratings.

 

 

Heat a pan and add the grated coconut and sauté it in low flame till we get a nice aroma. This will take only a minute or two. Do not sauté it so much otherwise the coconut would change its colour to light brown

 

 

Heat a pan with a teaspoon of ghee and add broken cashews and fry them till they are golden brown in color. Set the roasted cashews aside. Again, heat the pan and add sugar and water. 

 

 

Keep the flame at medium to low to allow sugar to completely dissolve in the water and melt completely. Cook it till the sugar syrup reaches a thick single-string consistency. If we take a drop of sugar syrup and touch it between the fingers, it should form a thick one-string. This is the correct consistency.

 

 

Now add the grated coconut and mix it well. To this burfi mixture add cardamom powder. We can also add a tablespoon of milk to the mixture when the sugar has dissolved which will bring the dirt out of the sugar. This is another trick to get a nice white burfi.

Stir the burfi mixture continuously by keeping the flame low to avoid sticking in the pan. When the burfi mixture starts to leave the sides of the pan without sticking and when we stir at this stage, the foam will be formed, and the mixture will roll like a ball. This is the correct stage to remove the burfi mixture from the flame. Be alert at this stage to switch off the flame otherwise, the mixture will be overcooked and gets powdered. 

 

 

Pour the burfi mixture into the greased tray. Sprinkle the toasted cashews on top and allow the burfi mixture to cool off a little then Make diamond shape/cube pieces of coconut burfi using a knife. Take the pieces when the mixture cools off completely and take it in a box and cover it with a lid

 

 

The yummy coconut burfi is ready to serve.

Gagan, People Team Assistant at Spud.
Chevda by Amisha Kumar – 
Chevda is a mix of grains such as puffed rice, cornflakes, peanuts, raisins, small round fried balls made of lentils, and any other little crunchy tidbit made from a grain or lentil. It is a popular bar snack in India and in Indian homes and is usually served with hot chai and evening drinks. Chevda is also known as Kerala mixture (which tends to be spicier) or Bombay Chivda (a lighter mixture). Most chevda is fried and very spicy or sweet. ​
Print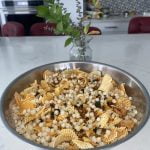 Chevda
---
Masala Temper:
4 Tbsp

oil

1 Tbsp

Black Mustard Seeds

10

–

12

Curry Leaves

1/2 tsp

Asafetida (hing)

Red Chilli powder to your taste

2

tsps Turmeric

1 tsp

Citric Acid powder

1 Tbsp

ground fennel seeds (as coarsely or finely ground as you like)

Salt to your taste (I used about 2 tsps)

Sugar to your taste optional (I used about 1 tsp)
Chevda Mix:
2 cups

puffed rice (You could use Rice Krispies – white or brown)

2 cups

Corn Flakes

1/2 cup

roasted peanuts (Spanish peanuts would be best)

1/4 cup

raisins

Cup of potato chips
---
Instructions
On medium heat the oil in a large wok (enough to stir the 4 cups of cereals freely). Add the black mustard seeds and the curry leaves and heat until the seeds start popping. Use a mesh spatter lid or a large enough lid to protect yourself from the popping seeds.

Add the hing, red chili powder if using, and turmeric and let cook in heat for one minute stirring gently with a large spoon. Do not burn the temper!

Turn the heat down to lo/medium-lo and add the cereals, nuts, and raisins and stir constantly over the heat careful not to break the cereals but enough to fold in the temper.

Add the remaining spices: citric acid, fennel, salt, and sugar. Keep stirring gently until the cereals are coated with the temper and toasted slightly. Turn off the heat and let cool in the wok. Store in an airtight container.
Notes
Note: You can add any grain or cereals you like (like boondi or fried channa daal), as well as a few crushed potato chips, or other nuts like cashews. Make it your own!
Tips for Storage: Keep in an airtight container at room temperature. If not eating it right away, you can keep it in an airtight container in the fridge or in freezer bags in the freezer. Just bring it to room temperature before eating.

Amisha celebrating Diwali!
Gujiya by Vinoda Chauhan – Outbound Team Member at Spud
It'sVinoda's family tradition to make different sweets (Gujiya is the most popular one) and an offering to the god as they are considered to be pure. Sweets are a small gesture of greeting people, family, and friends with the joy of celebrating the festival. Apart from Diwali, they also make this on Dussehra and Pongal festivals. This is a special dish in Telangana state of South India.
Print
Gujiya
---
Description
Gujiya is a sweet deep-fried dumpling, filled with a sweet mixture of grated and roasted dried fruits, khoa, grated coconut, and a hint of suji and fried in ghee. They are often made for Holi or Diwali!
---
2

Small Cups of Sesame seeds

2

Small Cups of Sugar

1

Small Cup of Grated Dry Coconut

3.5

Small Cups All Purpose Flour

10

Green Cardamom Pods

1/4 Teaspoon

salt

Oil for Deep Frying
---
Instructions
Mix all-purpose flour and salt in a bowl, and add water little by little to make soft dough like chapati dough. Coat the dough with little oil . Keep it aside for 15 mins.

 

Dry roast the sesame seeds on medium low flame, allow them to cool. Coarsely grind the sesame seeds.

 

Grind cardamom seeds to make a powder.

 

In a bowl add sesame seeds, sugar, grated dry coconut, cardamom powder and mix well.

 

Make small balls  with the dough and roll them into a thin puris.

 

Add around 1.5 teaspoon of sesame seeds mixture in the middle of puri.

 

Wet your finger and run it along the edges of the puri with water and fold over to the opposite end, enclosing the stuffing to form a semi-circle (half-moon). Press the ends firmly so that the filling doesn't come out during the deep-frying process.

 

Now cut on the edges with the help of kajjikayala  spoon (type of spoon) to make a design or twist the edges around the kajjikaya.  Repeat the same with rest of the dough

 

Deep fry them on both sides till they become light brown on both sides. These take very little time to fry.

 

Tastes delicious and is considered healthy during winter season because of the sesame seeds. 

Enjoy!!