Mornings are crazy, and preparing lunch can often end up being the task that gets done in the most rushed frenzy of all. This can result in boring, unbalanced, and unhealthy meals–a disappointing realization upon the mid-day excitement of pulling out your lunch. So in the spirit of September, and getting back into the swing of things, we've assembled a list of 'lunch hacks' to arm you with some useful tips to help you stay organized and on track with prep for a week of healthy lunches. These hints are great whether you're packing your own lunch, or getting healthy lunch boxes ready for your kids to take to school!
1. Make a list of lunches ahead of time. Maybe you think that you are not the type of person that does this, but it will actually save you SO much time. You will probably also end up saving money, and reducing your food waste if you've got a food plan with you when you're picking out groceries.
2. Use your freezer. Pack a week's worth of sandwiches on Sunday night, then stick them in the freezer. Pull out the day's sandwich each morning, and it should be thawed by lunch time. This is also a great strategy when you're making big rice dishes. Make a large batch of fried rice, and stick it in individual portion-sized bags. Reheat the morning of, and stick it into a thermos to keep warm for lunch.
3. Use a juice box as an ice pack. Pop a juice box or water bottle in the freezer and use it as an ice pack in your lunch bag! 
4. Have your kids pack their own lunches. You'll probably want to supervise while this gets integrated into the routine. But having your kids pack their own lunch may entice them into actually finishing their whole lunch, and provides a learning opportunity for taking on a new responsibility.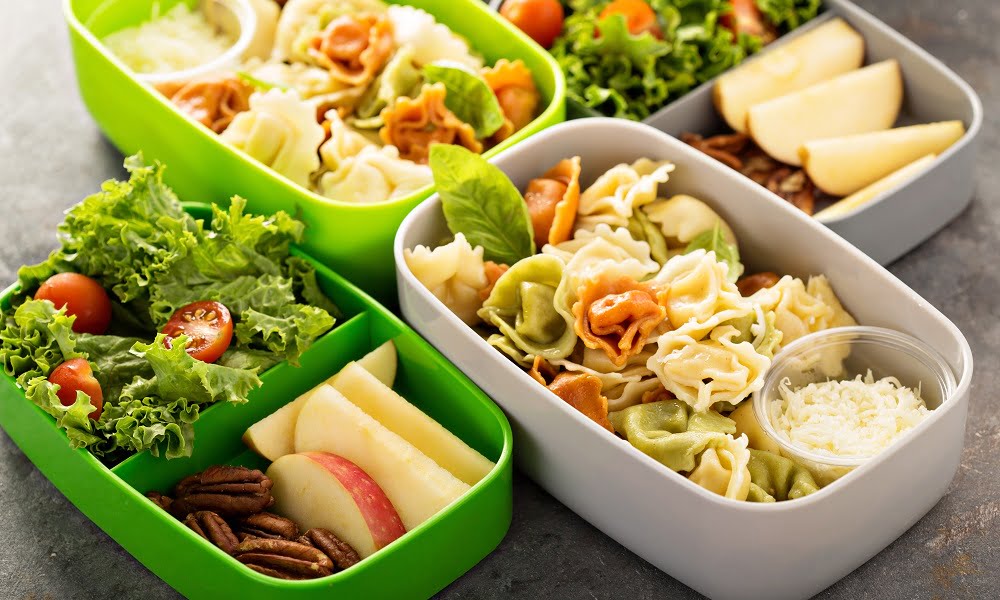 5. Hard-boil a bunch of eggs at the beginning of the week. Hard-boiled eggs are packed with protein, and will last for up to a week in the fridge. Use them as an on-the-go snack, an addition to a salad, or whip up a few egg salad sandwiches.
6. Make lunches at night, not in the morning. This simply decreases the amount of stress you will experience in the morning. It may also inspire greater motivation to pack something healthy.
7. Use bento box-style lunch boxes. These help control portion sizes and also cut down on the use of little plastic bags.
8. Pack frozen grapes as an edible ice pack. The night before you're packing lunch, place washed grapes in a sealable plastic bag and pop the bag in the freezer. The next morning, place the baggie in your kids' lunch box to help keep perishable foods cold. By the time lunchtime rolls around, the grapes will have thawed to a cool, fruity treat.
9. Mix up your snacks. It's easy to fall into a rut of an apple or crackers. Bring in a little pizazz, and try incorporating some variety with snacks like hard-boiled eggs, edamame beans, snap peas, carrots, or granola bars (be wary of the sugar content in these guys, the safest bet is to make your own).
10. Think beyond the sandwich. They're a classic, but sandwiches can get boring. Try whipping up a big batch of quinoa, or chickpea salad to last you a couple of lunches; they usually keep nicely in the fridge for a few days. Eating a wider variety of foods is important to your health, and will have you feeling energized instead of sluggish as you get back to work.
11. Keep a bottle of salad dressing at work. Following tip #10, keeping a bottle of salad dressing at work is the perfect hack for stretching out the fridge life of a big batch of salad. Keep the dressing-less salad in the fridge, and scoop out your portion into a container for your day. Pop it into the fridge at work when you arrive, and by lunchtime–voila, dress your salad with the dressing that lives in the work fridge!
12. Hummus! Pack hummus for your protein and surround it with plenty of delivery methods, like crackers and cut-up raw veggies to keep things interesting.
13. Keep it dry. Put condiments like mayo or mustard. and mushy toppings like tomatoes, in between cold cuts and lettuce so that the bread of the sandwich doesn't get soggy on the inside.
At the end of the day, all it takes is a little prep. Getting lunches ready for the week may not be exactly what you want to do on Sunday night, but these tips will help you save time, money, and keep you and your family on track with delicious, nutritious lunches!