With the holidays quickly approaching it is time to stock up on your wine! Here are 6 perfect turkey dinner pairing suggestions.
Riesling is a perfect turkey dinner pairing for a multitude of reasons – the bright acidity helps to cleanse the palate, while a touch of sweetness works well with the big flavours of a holiday feast. Max Ferd. Richter has been run by the same family for 10 generations crafting beautiful wines from some of the top vineyards in the Mosel. This Riesling comes from the Mülheimer Sonnenlay vineyard and is affectionately known as the "Zeppelin" Riesling to commemorate the fact it was served aboard the luxurious airships "Graf Zeppelin" and "Hindenburg"…talk about history! As wine writer Terry Theise puts it – this is "sweet like an apple, not like a twinkie". 
*Only available in Calgary
Calliope is the second label of the famed Burrowing Owl winery in Oliver, BC. The wines are made at the same facility as Burrowing Owl with the same attention to detail, making this a great value. The Viognier jumps from the glass with notes of apricot, peach, papaya, honeysuckle and much more. The wine is dry, but the intensity of the fruit and medium-bodied texture help to stand up to the assertive flavours of a full turkey feast.
Located on the Beamsville Bench in Niagara, the winery was founded by Martin Malivoire in 1996. Martin had an impressive career in Hollywood as a director of motion picture special effects and purchased his first vineyard in 1995. The winery is certified under Ontario's Sustainable Winemaking Program and they are Members at Large of Oregon's LIVE initiative. This wine is also vegan-friendly. 
Gamay is a thin-skinned grape most often found in France, which is proving to be well suited to our Canadian winemaking regions. This is light-bodied, but full flavoured with notes of cherry, raspberry, spring flowers and spice. This is a great alternative for Pinot Noir lovers looking to try something new and is a very versatile food wine. We suggest serving it slightly chilled.
This white wine, from a small winery in Naramata Bench is an aromatic blend of mostly Gewurztraminer (49%) with Riesling (32%) and  the rest Muscat, Schoenberger, Auxerrois and Pinot Blanc. This rich textured wine has flavours of lychee and guava complimented by clove and nutmeg spices, all flavours that are likely to be incorporated in your Thanksgiving feast! Slightly off-dry, this is a perfect pairing with roast chicken, turkey and mildly spiced meats.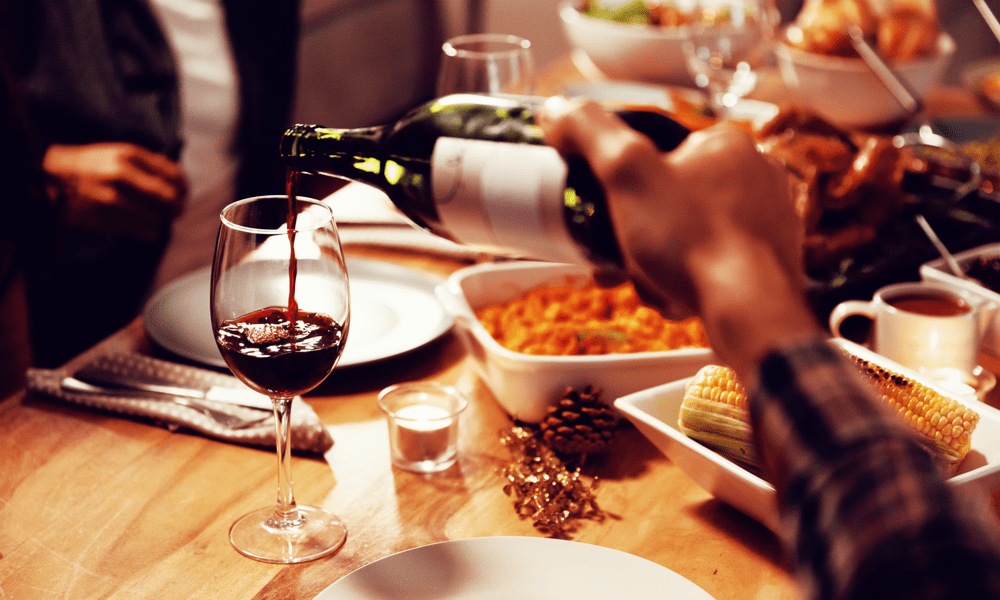 This wine appears to be a light rose, but is actually a fun blend of Riesling, Pinot Gris, Chardonnay and Pinot Noir that will please with a palate of juicy orange and apricot – flavours that are likely already in your stuffing or cranberry sauce! The Kitsch is never too sweet and is the perfect blend to pair with turkey or most entrees on your Thanksgiving menu. 
*Only available in Calgary
Halos of Jupiter is a collaboration between the southern Rhône's renowned oenologist Philippe Cambie, and winemaker Michel Gassier, two highly respected names in the esteemed region. This wine has savoury spice and rich black cherry notes and is dominated by Grenache (80%) and Syrah, a polished red wine with subtle spicy notes that goes perfectly with roasted meats.
*Only available in Calgary