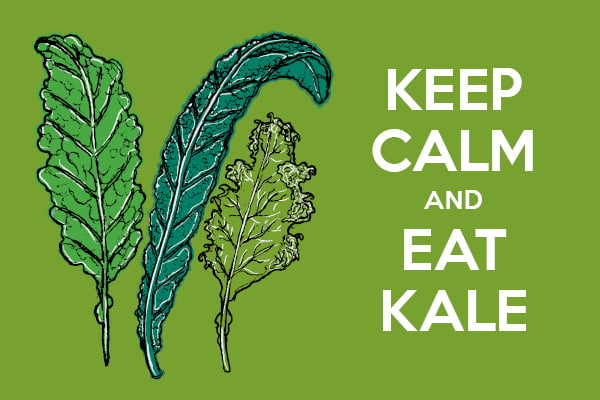 In light of National Kale Day, we thought it would be fitting to do a SPUD spotlight on kale. This leafy green has been creating quite the culinary commotion this past year which is surprising as kale isn't a new veg. In fact, it's quite the opposite! Kale has been growing in garden beds throughout the world for years, but is only recently being recognized as the 'Queen of Green'.
And Queen of Green it is! One cup of chopped kale contains 33 calories and 9% of the daily value of calcium, 206% of vitamin A, 134% of vitamin C, and a whopping 684% of vitamin K. It is also a good source of minerals copper, potassium, iron, manganese, and phosphorus.
Kale can easily be grown in your garden throughout the summer months and into fall making it one of the simplest vegetables to grow. No time to start a garden? Or is your thumb not-so green? Not to worry, you can always find organic kale at SPUD throughout the year, and choose from two popular varieties; the curly or lacinato kale.
So what do you do with it?
Rule of thumb, the smaller the leaf the more tender your organic kale will be. Small, tender kale leaves are perfect for freshly prepared salads and oven roasted kale chips. Larger leaves can be tough and bitter. These are best used roughly chopped for soups, stews, baked goods, or my personal favorite, juicing.
Want some great recipe ideas for your kale?
With the cooler air and cold nights that fall brings, we recommend making your own Crispy Kale Chips with this simple and easy to follow recipe. The Going Green Energizing Juice is the perfect juice to kickstart your day and will even help ward off any colds that may be lurking around. Try the Yam N' Kale Mash as a nutrient rich side dish (think of all that vitamin K and C!) this Thanksgiving, and if you're looking for a healthy and hearty fall dinner, the Kale and Potato Soup will warm you up and leave you feeling satisfied.
Do you have a great kale recipe you'd like to share? We'd love to hear about it!